CHARLOTTE – The Panthers might need a Christmas miracle to return to the playoffs for a fourth consecutive season, but still it's not the season of giving up for this team.
It's simply not in their DNA.
"We have hope, but I also think there's a tremendous amount of pride in that locker room," said head coach Ron Rivera, whose Panthers wrap up their home schedule on Christmas Eve against the Atlanta Falcons. "It's a group of guys who really care about who they are and what they put out there, and they care about each other. Because of that, they're going to play hard."
When it comes to playoff hopes, the Panthers enter Week 16 barely better off than the 10 NFL teams already mathematically eliminated from contention. To even be alive heading into next week, Carolina needs Green Bay and Tampa Bay to lose Saturday and Washington to either lose or tie. That's simple compared to what would have to happen in Week 17.
And, oh yeah, the Panthers have to win, not as easy task against a Falcons team that can claim the NFC South crown. Ultimately, facing Atlanta gets the Panthers going regardless of what's technically on the line.
"It's one of those games that as a Panther you mark on your schedule. When you do play them?" fullback Mike Tolbert said. "They don't like us. We don't like them. We know that.
"The team that plays best Saturday is going to win the game."
The Panthers are playing some of their best football right now, having methodically dispatched a Washington team trying to reach the playoffs and having done much the same the previous week against San Diego's highly charged offense.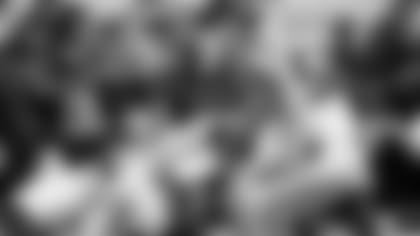 Carolina played nothing near its best Week 4 in Atlanta, when the Falcons ran out to a 34-10 lead before holding on for a 48-33 triumph.
"That's probably the worst performance that we've had as a football team against them since I've been here," linebacker Thomas Davis said. "It's about being better than we were that weekend, and that's not going to be hard on defense because we didn't play well at all. We know that game wasn't indicative of who we are, so we're excited about another chance."
Davis, quarterback Cam Newton and defensive end Charles Johnson – as Georgia natives - top the players who get just a little bit more fired up for every Falcons matchup. But one of the enduring qualities of this team is that even when there's officially little to play for, the Panthers don't require manufactured motivation to give it their all.
"We're going to show up and play hard," Rivera said. "That's what I expect from our guys. As Cam said, there's been a challenge. I laid it down to them, and we'll see how they respond. So far, it's what we've hoped for."
---
View photos from Carolina's game against the Falcons by team photographer Melissa Melvin-Rodriguez.