CHARLOTTE – The Panthers (3-6) and Saints (4-5) are coming off gut-wrenching defeats, but the short week forced both teams to hit the reset button quickly as they brace for Thursday Night Football at Bank of America Stadium.
It's a critical game as these NFC South rivals jostle for positioning behind first-place Atlanta (6-4) with seven games to play.
Everyone in the Carolina locker room knows the situation and what's at stake.
"No question. We've put ourselves in a real desperate situation," linebacker Thomas Davis said. "The only people that can dig us out of it is us."
The Panthers – NFC South champions three years running – are still looking for their first win in the division this season.
This is the first division game for Carolina since a furious second-half rally came up short in a 41-38 defeat at New Orleans in Week 6. The Panthers allowed more than 500 yards against quarterback Drew Brees and the Saints' top-ranked offense in that meeting, but the defense has been markedly improved in the three games since.
"Those guys just really had a day against our defense. For us, we take that personally," Davis said. "We've got to do a much better job defensively than we did the last time we faced them."
A healthier, more confident Carolina defense seemingly turned a corner after the bye in Week 7. But the Carolina offense is now looking to bounce back after a scoreless second half in last week's 20-17 defeat against Kansas City.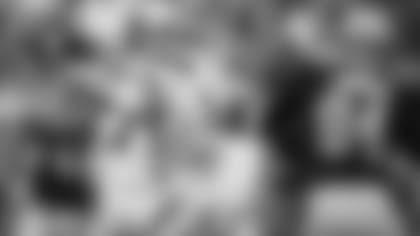 "We want to take each possession and maximize it – whether it's the first possession, the sixth possession or the last possession. We want to play well from the jump and sustain that throughout," tight end Greg Olsen said.
"We understand we have to score, we have to hold the ball. We can't give (the Saints) short fields. I think a lot of those principles apply every week."
For a team with four losses decided by a field goal or less, the time is now for Carolina to find a winning edge before it's officially too late.
"We have to be better," quarterback Cam Newton said. "When it's time to win, we just have to grit our teeth and find ways."
---
View top photos of Carolina's game against New Orleans by team photographer Melissa Melvin-Rodriguez.