On bringing physicality to the team: "Yeah, we do (have it), and some. Again, I thought that both teams played very well, as far as physical football. I liked that our guys came out early, and did some really good things, and, you know, we produced some scores. Unfortunately, we got tricked on a trick play, a fake punt, and it gave them a little bit of momentum there and they were able to score. But again, I thought our guys were resilient, I thought they were physical and did the things that they needed to do to give themselves a chance to win the football game."
On the game plan for Cam Newton: "Well, the plan really was to call the game accordingly, and that's really what happened. We were running the ball well, we were running it effectively, and so we just continued to. Again, I think (offensive coordinator) Mike (Shula) called a really good game. I think, you know, we did some things well. We did good run-pass options to Cam, and we got the right look, and we handed it off. ... Well, he did what he was supposed to. He read the defenses, he made the right calls, and did things he was supposed to with the football."
On whether Newton will play in final preseason game: "Not necessarily. You know, again, we're going to go through the week, we'll evaluate. But again, we'll sit down and talk about it as a coaching staff as to what we want to do and how we want to treat this last game."
On center Ryan Kalil's debut: "Ryan controls our line calls. He helps with the protections, as well, and just him getting his feet wet again was good. As we go forward, we'll see how things are, in terms of getting ready, and again, you know, our big goal, our big objective, obviously, is getting ready for San Francisco."
On the start for running backs Jonathan Stewart and Christian McCaffrey: "That's exactly what we envision, as far as what we want to do with our offense. We try to mix in the different things with the different players that we have. We mixed Curtis Samuel in; we mixed the group of receivers…who was the X, who was the Z, who was the F? I thought they handled it very well, and with the different types of players that we have, we can use different personnel groups, and do different things."
On the defense's efficient effort: "Yeah, I was pleased with that. We did some really good things defensively, and, you know, as I said, they got us on a fake punt, which is great, because, it's something you never get a chance to work on. Our guys will learn from that, obviously. They needed a little bit of momentum, and that's what they did. They gave themselves a chance, and we threw our defense back out there. I think that was a great situation for our defense to be in. We got an opportunity to stop them, and we didn't unfortunately, but I think we learned from it, and we'll have some good tape as far as that stuff is concerned."
On Kelvin Benjamin's preseason: "Yes. I think Kelvin's playing very, very physical. He's running really good routes, he's a great target, and he presents a good target to the quarterback. He's making the catches, and getting up-field. He doesn't waste a lot of steps once he catches the ball. He knows to get north and south, and he does that very quickly."
On Curtis Samuel's debut: "Well, you know, again, one of the things that we wanted to see was the explosiveness, and he does have it. With what we're doing, he made a couple of plays out of it."
On how it felt to return to action: "It felt good. We had a great week of practice trying to bounce back from a slow start from our previous game."
On the opening drive: "It felt good. Like I said, it was just a culmination of a lot of things really - a great week of practice, guys focusing on having pretty much a full week, a short week, but all of our emphasis on Jacksonville. It just showed. A lot of guys were anxious to produce, including myself. We were trying to make a big splash; now we just have to sustain that."
On finding out he'd play: "I was excited when they told me I was able to play and again, they didn't tell me how much. I wish it could have been more. I fell behind in a lot of ways in this game, but the optimism of this game was we did have a great first drive. I just have to take full advantage of the time that I do get."
On Kelvin Benjamin's touchdown: "It's the result of great focus in practice. We've seen that clip a couple of times and it played out about like we imagined. It was one of those looks that we had to be aware of and 'Benjie' has had an unbelievable training camp, along with our corps of receivers. Everyone has accepted the challenge. And to see him be aware of that is very positive, to sit back and think about it. I do see growth out of him and we need that growth out of him because he is pretty much the leader of that room."
On the running game: "That's Carolina football. We can give a lot of fluff every now and then, but to see 28 (Stewart) 22 (Christian McCaffrey) , 34 (Cameron Artis-Payne) and 43 (Fozzy Whittaker) running downhill at you and having our offensive line on the second level - we have very athletic linemen - seeing those guys attack the defense, that's how we can set the tone. We're going to need that."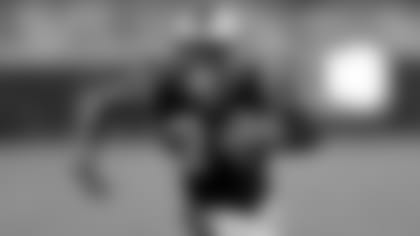 Running back Cameron Artis-Payne
On his two touchdown runs: "Offensive line played great. We got good push and they created some gaps. The linemen and the tight ends played well."
On the season ahead: "We have a great coaching staff, great position coaches. They are going to put us in the best position to be successful. We have some explosive players, and guys back that are healthy now. I think we'll be a team to contend with."
On Newton: "It was good, and obviously it's nice to have your quarterback back. It was good to get him some game action and we got off to a good start on that first drive."
On the first team's first half: "I thought it was clicking for the first series, but I thought we left a lot out there. I don't think the score was an indicator of the way the game went. They (the Jaguars) got a couple extra drives with the fake punt and we had the turnover before the half. They snuck in and got some points. So, we probably left some points out there and gave them a couple of short fields. There are always things to clean up."
On bouncing back from previous game: "We were physical last week, but when you turn the ball over twice in the first five plays, I didn't expect we would do that tonight. So that was an improvement. Last week, we just had a couple of tough plays that put us behind the eight-ball early."
On his interception: "It was a look that we got all week. The coaches did a good job of getting us ready for that route. I was able to break on the ball, trap it on my thigh and come up and make a play on it. Initially, I went for the break-up, and I tried to rake the receiver's arm. Dez (Southward) tried to hit him and it knocked the ball to me, so I was able to pin it and control it all the way to the ground."
On the team's chemistry: "I love it. I think this is one of the best locker rooms. You don't find a lot of places like this where the veterans are in there with the rookies. Nobody is bigger than the team and everybody meshes in this locker room. That's what I love about this team."