On if turnovers set the tone:"Very much so. I think the tone was set by both turnovers, and credit the Titans. They came out took the ball away twice early on, put themselves in scoring position and capitalized. You're not going to win football games when you spot your opponent 14 points. And again, kudos to them because they made the plays. But having said that, when we settled in, started making things happen. Probably, to me, you guys probably didn't notice it but I thought one of the really good plays in this game was a four-yard run by Jonathan Stewart. It was physical football. We had great surge, great push up inside and Jonathan ran hard inside and we picked up four yards and then we went from there and scored the touchdown. That, to me, is what we've got to get back to. We've got to get back to playing physical football, but again, take nothing away from the Titans. They played a very solid football game."
On disappointment in first-team offense: "Very much so. As I said, you can't turn the ball over, you can't make mistakes like that. Devin (Funchess) makes a great catch, turns to get upfield, he's got to make sure he's got that ball high and tight. He held it a little bit low and that's why he lost it. By the time he's got it, great, he's got to put a little bit more air under it and carry over the top of the DB. They made a great play on that, they tipped it, they intercepted it and again that's something we've got to make a better throw on that. We could've probably threw the ball underneath but we're trying to make something happen downfield."
On David Mayo starting for Luke Kuechly: "I thought David did a nice job. I thought he was physical to play. There are some things that happened out there that David obviously will get better at. I think the biggest thing, more so than anything else, was he was physical and that's what we're trying to get across. We've got to be a physical football team if we're going to give ourselves opportunities to win games."
On thought that second-team defense struggled: "I wouldn't say that. I think the biggest problem, more so than anything else, was the field position to begin with initially. Again, it wasn't one continuous thing, it was a couple of big, pop plays. You've got to limit that. It is a matter of four or five big plays a game that dictates who wins or losses. When it's one big play that really amounts to something big, I don't think you can get a little bent out of shape over it. "
On what he saw from Christian McCaffrey:"Just the explosiveness. You always hold your breath when he's got the football, especially when he's got space. That's one of the things we have to do. We've got to make sure we're putting him in a position to have that kind of success. It's true for any of our players. We've got to make sure we're giving them a chance, giving them an opportunity to succeed as coaches."
On if Stewart's style compliments McCaffrey:"Absolutely. If we can be physical in nature up front and kind of dictate the defenses that we're playing and then you switch it up with Christian (McCaffrey), yeah, I think that's what you look for. What's going to happen now is you're going to start to see things popping up to handle him and now the other guys will get opportunities. It should open up some other things for us."
On Julius Peppers: "Julius is just a tremendous athlete. He does a tremendous job of keeping himself in shape. Just really appreciate what he does for us, you know. He's the senior guy out there and he just plays hard and that is great. Again, part of what we want to try and do is mix him up with Charles (Johnson) and do some different things with both those guys in there at the same time, as well. We get a nice little mix of it. Because of the things that we didn't do on the offensive side, we put the defense out there for 22 plays in the first quarter, so we got a real good look at the combination of guys we had out there today."
On rookie Alex Armah's touchdown:"Oh, I think for Alex, it's tremendous. It's one of those things that as a young guy you're not necessarily making a position change because he did it in college but learning to do it in the NFL and then having success, it does build your confidence. He's solid. He works hard. He studies. He's a smart young man. I think it's going to be a really good boost for him."
On plan for Cam Newton:"We're going to increase his throws. Again, he had a real good week this week, really pleased with it. We're going to increase the throws and make a decision as to what's going to happen Thursday night with Jacksonville. Again, he's on target. We're happy with it. His workouts really have been good."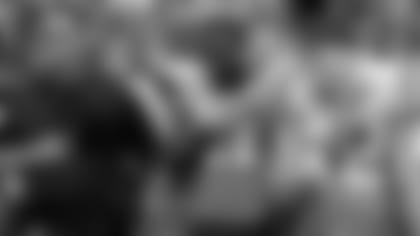 Running back Christian McCaffrey
On the offensive line: "They were great. There were definitely a lot of big holes open for us to hit. It made our job really easy."
On the running back group: "We have an unbelievable group. I got lucky coming into a group like that, we all feed off of each other's energy. We want each other to succeed. That is pretty special when you have that in a group."
On his touchdown run:"The hole was there, and it was my job to make it happen from there.  It felt good. It is definitely a good feeling anytime you score. Hopefully we get a lot more."
On the touchdown ball: "I will for sure keep it, but I don't have any plans for it yet."
On making the most of limited touches: "It's preseason, so it is pretty vanilla right now. But it was definitely real good getting out there and getting loose a little bit. It is also kind of a tease, because as soon as you feel like you are in a rhythm you get pulled. But that is what the preseason is for – to kind of get people ready to roll. Whenever they call me I will be ready."
On frustration on heels of poor practice: "Yeah, especially since we had such a good practice on Wednesday and then we kind of fluttered a little bit on Thursday. We expected to come out here with the preseason being what it is, we expected to come out here and make the most of our first couple of drives. Obviously we need to do a lot better than we did. "
On the importance of the preseason: "You can't overreact to the preseason, anybody that says it doesn't matter is probably lying to themselves. It does matter. We want to play well, you can never benefit from playing poorly. The sky is not falling in the second preseason game. I think there is a balance there."
On McCaffrey: "On his three or four touches he had some spark plays. He had three runs and his touchdown, and then the screen. Obviously he is dynamic, we have seen it. As we start moving forward and game-planning for teams, obviously he will be a part of that."
Defensive end Mario Addison
On the importance of the preseason: "We take it serious. We take the preseason serious. We take a preseason game serious because sometimes that's how you are going to play during the season. That's how you build great chemistry. When guys play together as a team in the preseason, they play together well during the regular season."
On responding to negative outcomes: "When it's over, you just have to forget about it and worry about the next game. But we think about it, but we put it on the backburner because we know for a fact that we have time to correct it. All of the little mishaps during the preseason, during the regular season you can't have those things."
Quarterback Derek Anderson
On the offensive line: "They were awesome again today, I didn't hit the ground one time. I don't know if I have gone through two preseason games in my life and not been hit, really. They are doing a great job, and I have got to be a little bit better. I tried to force one into Greg (Olsen), and one guy bats it, and unfortunately got an interception. We did some good things and it's not – obviously didn't show up as much as we liked, but we will build on that stuff and correct the bad."
On McCaffrey: "That guy, you have just got to get the ball in his hands and you know he is going to make plays for us. He did a lot of good things today. I am sure there were some good, and obviously you know there's some bad. Correct those, and I had a couple of miscues and miscommunications. We will get it fixed definitely and come back next week."
View photos from Carolina's preseason game at Tennessee.