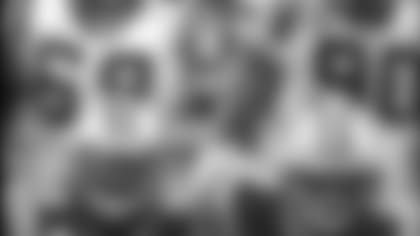 CHARLOTTE --** The excitement is as thick as the black paint that now covers the end zones at Bank of America Stadium.
Itis the playoffs, and for the first time in five years, the Januaryspotlight shines on Charlotte as the Panthers host the ArizonaCardinals in just the third postseason home game in Carolina's14-season history.
Most Panthers -- including key contributorslike safety Chris Harris -- haven't experienced the crackle of thepostseason in Carolina.
"I just tell (Harris) to buckle his seatbelt, because it's going to be a great ride," said wide receiver MuhsinMuhammad, who is one of two players still with the team who took partin the home postseason clashes with Dallas in January 1997 and January2004.  Placekicker John Kasay is the other.
But above all, theplayers on both teams know that it is still a game.  Their seasons andSuper Bowl dreams hang in the balance, but without accepting thecontest in its proper context, the enormity of the moment can overwhelm.
"I'msure there'll be some added emotion there, but when the dust settles,it is just another game," tight end Jeff King said. "For guys that havenever been in another playoff game before -- and I'm one of them --it's just like we played the Cardinals the first time.  You go out, youmake plays.  It's football.  We've played it all of our lives.  It's nodifferent."
Added cornerback Richard Marshall: "It'll really hitme once game time comes.  But right now we're just trying to get ourtechniques and assignments down and just go out there and play."
In Carolina's first 10games, their red-zone defense was exquisite.  Just once during thePanthers' 8-2 start did they allow an opponent to score touchdowns onmore than 50 percent of their forays inside the Carolina 20-yard-line-- in the 27-3 Week 6 loss at Tampa Bay, when the Buccaneers scored ontwo of three trips (66.7 pct.) into the red zone.  In Week 8, thePanthers held the Cardinals below their season red-zone touchdown ratioof 58.5 percent, allowing touchdowns on three of six series whilekeeping them off the scoreboard altogether on two other drives, thanksto a Jon Beason fourth-quarter interception and Charles Godfrey's alerttackle of Jerame Tuman on a fake field goal late in the first half.
Butin the last six games, the Panthers have been gashed in the red zone,allowing touchdowns on 17 of 25 red-zone series (68.0 percent) andnever permitting an opponent to convert less than 50 percent of itsdrives inside the Carolina 20 into touchdowns.  The Panthers have gonefrom allowing 3.7 points per red-zone series in their first 10 games to5.6 in their last six.
Carolina's defense knows that Arizona willget its yardage through the air.  With a passing game that ranks secondin the league and -- if Anquan Boldin plays -- three Pro Bowlers at thekey slots (quarterback and both receivers), the Cardinals are blessedwith aerial stars.  Defending the short field, and making sure thosered-zone drives end in field goals -- and at least one takeaway --could decide the game.
"We know they're going to catch the ball," Panthers cornerbackRichard Marshall said. "We know they're going to get yards.   Our thingis that when they catch the ball, we know we've got to get the tackle.:
LITTLE PLAYS BECOMING BIG ONES
What proved to be the game-winning touchdown in Week 8 came when SteveSmith managed to elude Arizona's defenders while keeping his balancealong the left sideline; he hovered above the white-painted grass butnever landed on it, an on-field judgment that instant replay confirmedfor a 65-yard touchdown.
Arizona's receivers -- from Boldin to Larry Fitzgerald to SteveBreaston to Jerheme Urban -- are all just as capable of those kinds ofbreakaway plays; each has at least one play of more than 55 yards thisyear.  In their 17 games this season, the Cardinals have 15 passes ofmore than 40 yards and are 8-4 when posting at least one pass covering40 or more yards; they are 2-3 when failing to do so -- which includedWeek 8, when the Panthers allowed five pass plays of more than 20yards, but none over 30.
"We know we've got to make sure we catchand hit and bring them down as soon as they make the catch," Marshallsaid. "We can't let them get any yards after the catch, and that'ssomething they're really big on; they do that a lot.  Those guys makereceivers miss all the time and we can't allow that."
Although the Panthers keptArizona from amassing many big plays in Week 8, Warner compensated bygoing underneath repeatedly and flourishing on third downs -- goingsix-of-11 on such plays.
That allowed the Cardinals to gobble upthe clock on some of their possessions; when tossing out a one-play,five-yard touchdown series that began with a Jake Delhomme fumble, theCardinals' average time of possession on their scoring drives was fiveminutes, 28 seconds.  This trend began on Arizona's first series, whichcovered 80 yards, consumed 11 plays and 6:24 of the first quarter andsaw two successful conversions on three third downs.
But becausethe Panthers were able to compensate with plenty of success of theirown on third downs -- they converted seven of their 12 opportunities,twice scored on third down and successfully converted third downs ofthree, 10 and 13 yards to clinch the game on the final series -- theywere able to compensate and keep Arizona's offense away from thefield.   Carolina's successful final-drive conversions -- whichincluded passes of 10 and 17 yards to Steve Smith and Dwayne Jarrett,respectively, and a 15-yard shotgun draw to DeAngelo Williams onthird-and-13 -- kept Warner from being able to mount a late-gamecomeback.
In the fourth quarter of Week 8, Carolina's best defense was a good offense.  That could be necessary again on Saturday.
AlthoughWarner seemed virtually unstoppable at times in Week 8, the Pantherswere able to get a takeaway when they most needed it thanks to Beason'sfourth-quarter interception and subsequent 44-yard return to set up aJohn Kasay 52-yard field goal five plays later.
Turnovers havebeen vital for the Panthers' success at defusing pass-intensiveoffenses, dating back to Week 1, when Chris Harris' strip of San Diegotight end Antonio Gates
As for Arizona's takeaway tendency, theCardinals are 8-0 when forcing at least two turnovers, including lastweek's win when Antrel Rolle scored off of a fumble recovery.  But whentakeaways have been scarce for the Cardinals, so too have wins; they're2-7 when forcing one or zero takeaways.
Carolina'soffense began flourishing in the second half of the season, withWilliams' emergence behind a gelling offensive line taking the Panthersto the next level.  Carolina's average of 31.9 points per game in thelast seven games easily eclipses their 21.2-points-per-game pacethrough the season's first nine weeks.  But Williams actually begantaking control when the Panthers scored 17 points at Oakland in theseason's ninth game; his 60-yard touchdown sprint in the second quartergave the Panthers a cushion that would prove vital as interceptions anda swarming Raiders defense bogged down Carolina's attack.
In thelast seven games, the Panthers have averaged five runs per game thatcovered at least 10 yards, for a total of 35 such carries.  Theiropponents have averaged 2.8 such runs, a total of 20 such plays. Andone key statistic to consider: When the Panthers have an equal orgreater tally runs of 10 or more yards than their opponent, they are10-1.  When the opponent has more runs of double-digit yardage,Carolina is 2-3, and its two lowest-scoring days were, notcoincidentally, the days when there were no 10-yard runs -- atMinnesota (10 points) and at Tampa Bay (three points). Equally withoutcoincidence is the fact that four of the Panthers' five games in whichthey scored more than 30 points came when they had at least five runsfor 10 or more yards -- six against Kansas City, eight against Detroit,seven against Tampa Bay and seven at New Orleans.  The exception was atGreen Bay, when the Panthers only had two runs of more than 10 yards,but that was the day when Mark Jones' three returns to at or nearmidfield and a second-quarter takeaway left the Panthers operating withshort fields.