SAN FRANCISCO – An angry wind kicked up just as Graham Gano lined up for a 53-yard field goal that had the potential to decide Sunday's showdown at Candlestick Park.
The wind wasn't the only thing that was angry.
"I was so angry until the ball left my foot," Gano said. "I always want another opportunity after a miss."
Gano had missed a 48-yarder wide left in the third quarter that would have given the Panthers the lead – his first miss all season – but his second chance stood up in a 10-9 victory over the San Francisco 49ers.
Some kickers flinch in pressure situations, but Gano thrives on them.
"I hope every game comes down to a field goal. That's what makes the job fun," Gano said. "I said going out after halftime that I hope I get a game-winner, hope the game comes down to me. I was fortunate enough to get another kick, and then the defense played great and the offense churned the clock a little bit."
Offensive contributors like tight end Greg Olsen certainly appreciated what Gano and punter Brad Nortman provided on a day when every yard counted.
"Our specialists and our special teams, we have a lot of respect for what they do," Olsen said. "They work extremely hard and diligently. For Graham to come out in that environment after missing the first one, that says a lot about who he is. We're really happy he's on our team."
MORE SPECIAL MOMENTS: The next time the Panthers got the ball after Gano had given them the lead, Nortman flipped field position with a punt that safety Colin Jones downed at the 1-yard line.
Jones, traded by the 49ers to the Panthers prior to the start of the 2012 season, and former 49ers wide receiver Ted Ginn had a big impact on special teams against their former team. Ginn produced 107 return yards, including a 25-yard punt return that set up Gano's go-ahead field goal.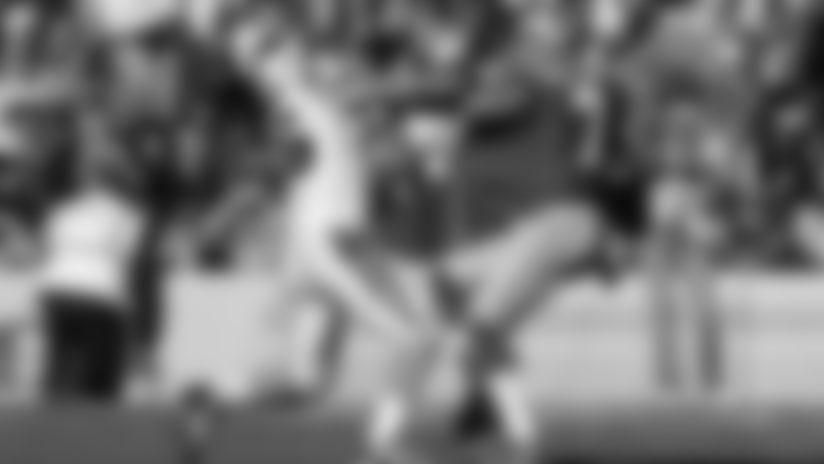 KLEIN ANSWERS CALL: Rookie linebacker A.J. Klein made the most of his first NFL start.
"I knew at some point in time my name was going to be called," Klein said. "Couldn't have been a better game to have my first start."
Starting in the place of Chase Blackburn, who was slowed by a foot injury that limited him to special teams and ended his day early, Klein finished with five tackles. Two stood out above the rest.
On the 49ers' second drive of the game, Klein stuffed running back Frank Gore on a third-and-1 run to force a punt. Later in the half, he dropped quarterback Colin Kaepernick for his first career sack.
"It feels good to makes plays, because that is what you are out there to do," Klein said. "Being the first start I was a little excited, a little nervous. But I think it went well. It wasn't perfect by any means, but I will improve. I promise that."
OH, SNAP: The Panthers had a chance to put the game away with less than two minutes left by converting on third-and-2 near midfield, but they nearly gave it away.
Quarterback Cam Newton couldn't corral the snap, and the ball was briefly free before he fell on it. Had the 49ers recovered, they could have gotten in position to try a game-winning field goal with just one first down. Instead, the Panthers were able to punt, and the defense took care of the rest.
"I never got good control of the ball, so when I didn't feel it, I didn't want to panic," Newton said. "Being in that situation before, when you don't get that snap and you start panicking and you are looking around and you look right over because the ball is right in front of you.
"We are living right. I will tell you that."