It might be time to accept that Case Keenum is one of the most proficient quarterbacks in the NFL – at least for the duration of the 2017 season. The fifth-year pro, who spent last season with the Rams, has helped the Vikings put together an eight-game winning streak and a league-best 10-2 record.
"I guess the biggest thing is that Case is making the plays he needs to make and he's not trying to overdo things," head coach Mike Zimmer said.
Although Keenum is enjoying his best season yet, his numbers aren't jumping off the stat sheet: He's thrown for 2,703 yards and 16 touchdown passes, average marks among quarterbacks. However, Keenum boasts a 98.6 quarterback rating this season, ranking him alongside the league's best.
"I think I heard someone say Case Keenum is doing a great job of managing their offense," Panthers defensive coordinator Steve Wilks said. "He's not managing the offense; he's running the offense."
Over the years, Kyle Rudolph has emerged into one of the premier tight ends in the NFL. This season, Rudolph ranks ninth in receptions among tight ends. According to Pro Football focus, his 50 receptions are the most of any player without a drop this season. His reliability and production ramps up in the red zone, as the tight end has been targeted 13 times, resulting in 12 receptions for 73 yards and six touchdowns (tied for fourth in the NFL among tight ends).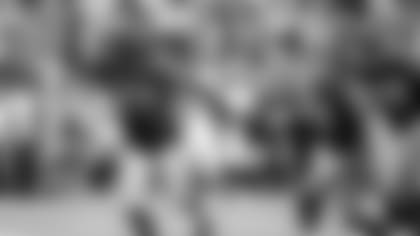 The Vikings defense is dangerous. On paper, there isn't a facet of the game in which they don't excel. They're ranked second in total defense, second in points allowed, third in yards per play and third in time of possession. 
"They're solid throughout their defense," Panthers offensive coordinator Mike Shula said. "They can stop the run with their front four without having to go to an eight-man front. They can get pressure on the passer without having to blitz. Yet they have a really good blitz package."
Defensive end Everson Griffen leads the way with 12 sacks (fourth in the NFL).
"They were scared of our rush," Griffen said of Falcons' quarterback Matt Ryan on Sunday. "We affected him. We didn't get any sacks, but we affected him in many ways. We got pressure in his face. We hit him. So that's all you can ask." 
To Griffen's credit, the Vikings made Ryan look pedestrian, as they have done to many other quarterbacks. Only three quarterbacks this season have been able to throw two touchdowns against Minnesota – Ben Roethlisberger, Jameis Winston and Matthew Stafford. The rest have managed one passing touchdown at best.  
Third-down success often correlates strongly with overall success, which is why it's not all that surprising that the Vikings boast a 10-2 record. Minnesota owns the best third-down percentage in the NFL on both offense (46 percent) and defense (27.2 percent).
"Obviously we know as an offense that third downs are huge, for every team," wide receiver Adam Thielen said. "It's something we talked about in the offseason, that we needed to get better at third-down conversions." 
Yet keeping opposing offenses from moving the chains on third down is equally important. The Vikings held the Falcons, who entered the game with the best third-down conversion rate in the NFL, to 1-of-10 on third down. Subsequently, the Falcons failed to score a touchdown and ultimately failed to defeat the Vikings.
The magic number for the Vikings is down to one. Minnesota holds a four-game lead over NFC North rivals Detroit and Green Bay with four games to go. A victory Sunday for the Vikings would clinch the division title nearly a month before the season ends and move Minnesota a win closer to securing a first-round bye for the first time since 2009.
View the top photos from Panthers vs. Saints by team photographer Melissa Melvin-Rodriguez.