CHARLOTTE – General manager Dave Gettleman is as disappointed as anybody about how the Panthers' 2016 season turned out, and now he's turning all of his attention toward getting the team back to its winning ways as soon as possible.
That, in Gettleman's estimation, is sooner rather than later.
"The sky is not falling here. We are going to make corrections, we are going to get it fixed, and we are going to be back in the race," Gettleman said two days after the Panthers' run of three consecutive NFC South championships officially ended with a 6-10 finish. "The 2016 season obviously was not what we had envisioned or find acceptable, but it happened. We all must be accountable, and we have to respond accordingly.
"We have a solid nucleus of veteran players and talented young guys who got baptism by fire. The Carolina Panthers are not going away; we will get this corrected."
Gettleman breaks his calendar into two distinct periods – the regular season and roster-building season – and the next couple of weeks are about looking back at the regular season to set the stage for attacking roster-building season.
"We're going to spend the next couple of weeks tearing down what happened, evaluating what happened and making personnel decisions moving forward," Gettleman said. "It's about getting better. It's about stepping back and really being brutally honest with how you've done your job and then being brutally honest about how you can move forward. Status quo is not going to stay here. We have to get better."
Gettleman said he will be "intentional and thoughtful" in his approach, steering clear of panicked decisions that could cause negative "ripple effects." To make sure the Panthers' offseason approach focuses on body of work rather than the struggles of the last few weeks, he asked coaches to not share their player evaluations until next week.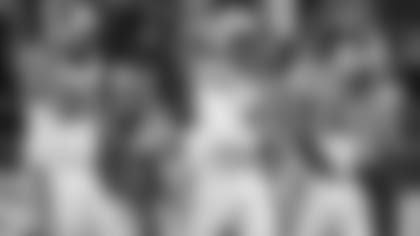 Gettleman reminded that while continuous improvement is paramount to success, the Panthers are starting from a good place.
"This is a damn good coaching staff. It's a solid group. We went 17-2 last year guys; they didn't get stupid overnight," he said. "Two years before I got here, we were 2-14. My first year we lost the first two games, but from that point we completely turned it around."
No team had won back-to-back NFC South titles before the Panthers did so and then did one better, earning a third consecutive crown in 2015. Many expected four in a row coming off such a dominant season, but the Panthers lost the close games they won the previous season and lost more personnel to injuries than they did at any point during their run of playoff appearances.
Gettleman said he constantly asks himself if he is providing head coach Ron Rivera and his staff with enough talent to be successful, and health notwithstanding, he believes he did in 2016. But in a league where parity rules the day, Gettleman will explore all options to help the Panthers reestablish an edge to return them to the top.
"We're going to use every avenue to build this team," he said. "We've done it since we've been here. We've signed guys off the street; we've done unrestricted free agency; obviously we've drafted; we've traded; we've claimed guys off waivers; we've taken guys off practice squads.
"You're competing dollar-wise with 31 other teams for players, and you've got to be in a position where you get yourself in a spot where you've got a player you want to keep and you can't do it. That's the way it is. And I'm going to sit down and shop intelligently."
Following a tough season but buoyed by hopes of following it up with a strong season, Gettleman's evaluation of the big picture will include a look in the mirror. After waiting a quarter-century to get his shot at being a general manager and taking advantage of it by helping his first three teams reach the playoffs, Gettleman's definition of "self-scouting" includes himself.
"We're in a class and had a hippy professor," Gettleman said, harkening back to his college days, "and he says, 'Okay you guys, give yourself your final grade.' So I'm sitting there, and I have a GPA of about 1.2, and I'm the only guy in the class that didn't give himself an A.
"The bottom line is I've got to get better. I'm accountable for this, I'm not happy, and I'm going to get this right."