CHARLOTTE – A problem with the NFL's place inside a never-ending news cycle is storylines can so easily and so often transform into overblown headlines. Especially during 'dead periods.'
Case in point: The overreaction after wide receiver Kelvin Benjamin showed up weighing more than he should have this spring.
"This is what frustrates me with the media today," general manager Dave Gettleman lamented late last week. "They go to DEFCON 5 on everything.
"Kelvin Benjamin being overweight was not a big deal. It was April 17. Can we all get a grip?"
Sorry, Dave, but that train left the station a long time ago.
To be fair to hot take artists online and off, Benjamin's extra weight was a valid talking point. It probably wouldn't have been a thing if he hadn't shown up heavy in 2015 or if folks around Florida State hadn't shared similar concerns. But the overreaction to a practice route and video screenshot in, hello, May, was so very Twitter 2017.
"You tell me," Gettleman said when asked how Benjamin responded after he became a meme. "How do you think he responded?"
My answer is Benjamin didn't look much different than when he first came to Carolina in 2014. Whether he's at his listed weight of 245 or a bit heavier, Benjamin has freakish size for his position. He's never looked fast and he never will. And that doesn't matter if his 6-foot-5 frame is being used properly, anyway.
"Kelvin's speed is vertical," Gettleman said, pointing up to the sky.  "He makes it up in a different way.
"(His) ability to make people miss is to run through them."
Of course, what's made Benjamin so frustrating is he's only sprinkled in dominant performances among his more common ho-hum games. Plus, the lack of speed does limit his ability to become an all-around force.
That's one of the reasons why Gettleman added an injection of quickness via the Panthers' first draft two picks this spring. While Benjamin works from the outside, Christian McCaffrey and Curtis Samuel figure to be slippery in the slot.
"Are we faster now? Yes, absolutely. When those two get in the open field, oh wow, here we go," Gettleman said. "Those guys can break some ankles."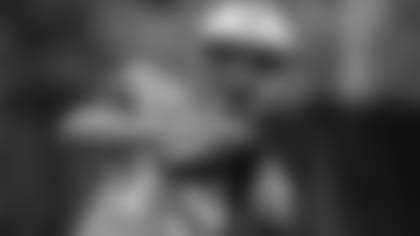 That's probably not what Russell Shepard can do, but if this spring's on-field practices were any indication, the free agent acquisition will chip in as a possession-like receiver underneath. Expectations for the special teams ace should be somewhat tempered, but he may be able to improve on the 23 receptions and 341 yards he totaled as a wideout in Tampa Bay last season.
"Am I surprised at what I'm seeing from Russell? No," Gettleman said. "Is he better than I thought he'd be, did he assimilate more quickly than I thought? That's a fair yes.
"The biggest thing is he's a self-aware man. He understands what his skill set is and he understands how he can make an impact. That's huge. That's called maturity."
Despite being the new guy, the 26-year-old Shepard has emerged as a potential leader in a room that could use one. Sure, the Benjamin thing was overblown, but he's not a natural leader. Neither is Devin Funchess. At least not yet.
Now just one month removed from his 23rd birthday, Funchess did show an admirable willingness to take some of the newer receivers under his wing this spring. Funchess also made plenty of plays. But he did the same thing in the lead-up to last season. Then, when the real games began, the training camp "MVP" took a step back.
Part of that, as head coach Ron Rivera admitted, was Funchess didn't get enough targets. Still, he finished with exactly as many catches and just 30 more yards than Shepard, so for Funchess, this third season is when he needs to take that big step the Panthers hope he can make.
"It's his turn, it's his time," Gettleman said. "He's obviously talented. He had a good camp last year, and Ron's right – we didn't use him like we probably should have.
"He's come back strong, so here we go."
View photos from the third and final day of Carolina's mandatory minicamp.