MOBILE, Ala. – At last year's Senior Bowl, Dave Gettleman was still getting used to his new title as general manager of the Carolina Panthers.
A year later, he's the same easy-going, humble man. But in his first year as general manager, he shaped a roster that took the Panthers to the playoffs for the first time since 2008.
Gettleman finally had his dream job. And as the Panthers won 11 of their last 12 regular season games to secure a first-round bye, it felt like a dream season.
"I really have loved doing this job," Gettleman said after watching a morning practice from the bleachers at Ladd Peebles Stadium.
Of course, a 12-4 season wasn't without its trials and tribulations for Gettleman.
Before the season started, he had to restructure several contracts to get Carolina under the salary cap while all the while still managing to sign free agents who would prove to be key contributors – players like linebacker Chase Blackburn, safety Mike Mitchell and wide receiver Ted Ginn.
Once the season began there were a slew of injuries to overcome. Both starting guards – Amini Silatolu and Garry Williams – went down with season-ending injuries early on. Free safety Charles Godfrey, the leader of the secondary, was lost for the year two games into the season.
"There were times things would happen, and I'd look at (director of football operations) Brandon (Beane) and I'd say, 'And I wanted to be a G.M,'" Gettleman said. "You never stop worrying. It's a learning curve.
"Things just happen. Things happen and you have to deal with them. But there was nothing insurmountable, and I had great support."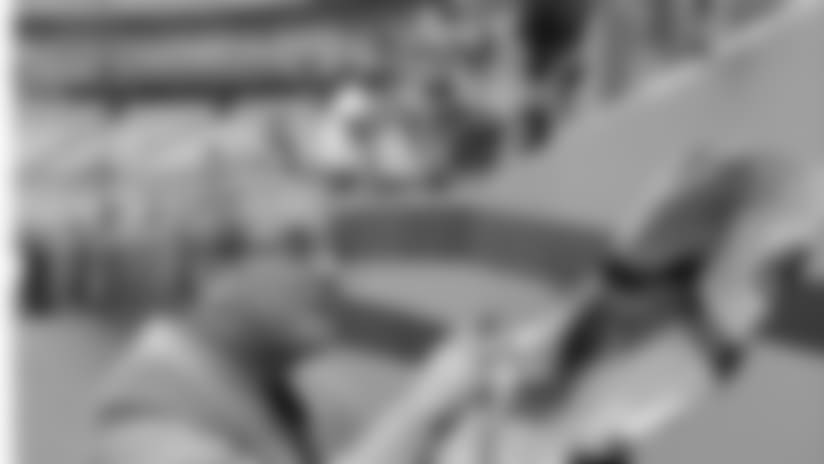 In addition to the injuries, the Panthers started the season 1-3. But Gettleman never panicked.
When the Panthers broke training camp, head coach Ron Rivera felt he was leading a playoff contender into the 2013 season. Gettleman agreed. And when the team got off to a rough start, he remained poised.
"I've been in the league almost 30 years now. I've been around a lot of really good football teams. I thought we had the guts of a team that could be really good," Gettleman said.
"It's a marathon. If you lose your composure, everybody around you is going to lose their composure. If you know that you've prepared and done everything you can do, let the cards fall where they may."
The cards fell in Carolina's favor as the season wore on. The Panthers began winning close games, and they ultimately proved they were a contender.
"They finally believed they could win," Gettleman said. "You have to expect to be successful. You can't hope. That's where these guys got to. They expected to win, and it showed."
What also showed over the course of the season was the respect and admiration those in the league have for Gettleman.
In every opposing team's press box there was always someone – whether it be a scout or team executive – that greeted Gettleman with a warm smile and hug. People across the league were thrilled to see the self-proclaimed grinder land his long awaited dream job.
"My mother taught me a great lesson, may she rest in peace: Be really genuinely happy for other people's success," Gettleman said. "I've always done that and believed in that. And to receive it in kind was wonderful.
"You wonder about the impact you have on people, and it was just positive reinforcement."
The impact Gettleman had on the Panthers in his first season on the job was substantial.
It was his time to sit in that chair and make those tough decisions. He was prepared as he ever could have been for that responsibility. But as is the case for anyone in a new position, there were learning experiences and unforeseen challenges.
As Gettleman likes to say, "You don't know what you don't know."
But the Panthers now know this: Gettleman was and is the right man for this job.