CHARLOTTE – As the final weeks of the 2016 season unfolded, head coach Ron Rivera shared his thoughts on the Panthers offense – where it was and where it needs to go.
On Tuesday, general manager Dave Gettleman addressed the subject.
"You watched it just like I did, and we just couldn't get any rhythm going this year," Gettleman said. "I just think the whole offense was just out of whack. It was frustrating."
Any conversation about Carolina's offense starts with quarterback Cam Newton, and Gettleman expressed confidence in the 2015 NFL MVP's ability to bounce back from a disappointing 2016 season.
One year after leading the league in scoring for the first time in franchise history, the Panthers fell to the middle of the pack. But Gettleman made it clear that no one person is at fault for the dip in production on offense.
"What it comes down to is – and I've said this to you guys before – football is the ultimate team game," Gettleman said. "No one guy wins, no one guy loses. It doesn't work that way. It doesn't."
The offensive line is the foundation of any offense's ability to run or pass, and it was a struggle to find consistency up front throughout the year.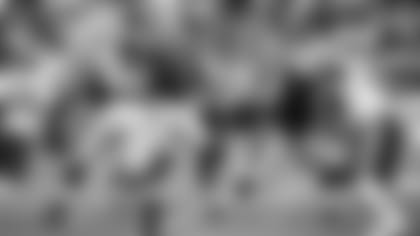 In 2015, the Panthers benefited from tremendous health. The same starting five up front was intact for almost the entire season.
It was a different story in 2016.
"It's the classic, when it rains, it pours," Gettleman said, reviewing the injuries to left tackle Michael Oher, center Ryan Kalil and right tackle Daryl Williams.
The constant shuffling was an enormous challenge, but as many teams can attest, that's life in the NFL. As a result, the Panthers were forced to rely on inexperienced backups, but Gettleman liked what he saw.
"Yes, I feel good about those backup players because they had to play and they didn't fall apart," Gettleman said. "(Run game coordinator) John Matsko and (offensive line coach) Ray Brown do a great job with those guys. Let me tell you something: That is a tough-man's game in there. Down in there, that is a tough-man's game, and those kids did a hell of a job."
With the 2016 season in the books, the Panthers have already begun to plan for the future. Rivera spoke openly about his desire to see the offense and Newton "evolve." Gettleman didn't want to use that word, but the mission is clear, and any changes to the offensive approach will be applied to the roster-building process for 2017.
"It's about getting better," Gettleman said. "It's about stepping back and really being brutally honest with how you've done your job and then being brutally honest about how you can move forward. Status quo is not going to stay here. We have to get better.
"We are going to evaluate what's going on. When we get into the draft, we talk about fit all the time. All the time. Does this guy fit our scheme? Any adjustment (the coaches) make, if they think they need a little different style of player we'll absolutely talk about that and make sure we're not trying to put square pegs in round holes."