CHARLOTTE – When Dave Gettleman introduced himself to the Carolinas on this same Tuesday one year ago, the longtime NFL personnel guru turned first-time general manager said he felt like he had hit the lottery.
The last 12 months have only served to strengthen that feeling.
"When I got the job, I felt it was the best job of all the GM jobs. You know what? I guessed right," Gettleman said. "We have challenges moving forward, there's no doubt about that, but I'd rather be where we are right now than where we were a year ago."
Gettleman took over a franchise with a lot potential winning numbers but no prize to show for it. Now he'll move forward with a team that recently punched its ticket to the playoffs for the first time since the 2008 season – a team with a talented corps featuring a franchise quarterback and a proven coaching staff now in place.
"Do I feel Cam (Newton) is a franchise quarterback? He proved it. He proved it this year, flat-out," Gettleman said. "And I have the ultimate faith in Ron (Rivera) moving forward. 12-4, NFC South champs – I think I'm pretty pleased."
Rivera said he anticipates that his entire staff will return next season, something that was far from a given a year ago. The loss to the San Francisco 49ers in an NFC Divisional Playoff still stings, but so does the buzz created by a job well done.
"We learned a lot about who we are as a football team, as an organization and as fans. It was a step in the right direction," Rivera said. "I don't think we're that far away. The two teams in the NFC Championship have basically set the model for us, and we're very similar in a lot of facets. We've come a little further than they did in their circumstances, so it's taken us a little longer to get here."
Rivera found some time Monday to review film of the 49ers game, a game in which Carolina missed some opportunities while allowing San Francisco too many second chances.
"Probably the biggest disappointment was that there were three bad penalties that we should not have committed, but unfortunately the situation got the best of us," Rivera said, referring to first-half unnecessary roughness calls on defensive backs Captain Munnerlyn and Mike Mitchell that aided 49ers scoring drives and a similar fourth-quarter flag on cornerback Josh Thomas.
"It's unfortunate. Guys lost their cool, lost their temper, lost their composure. That's on me. I'm the head coach, and I've got to make sure guys understand the situation and circumstances and don't get caught up in that."
In the big picture, however, Rivera and Gettleman couldn't be happier with what the Panthers accomplished during the 2013 season. Following a 1-3 start that had everyone on edge, the defense and Newton led a resurgence that netted victories in 11 of the Panthers' final 12 regular season games.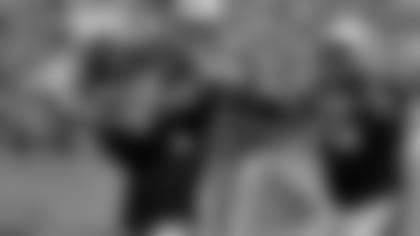 "We had our issues. We had injuries, but we never cried about it. We just kept moving," Gettleman said. "Things happened. We didn't have the perfect year. Every starter didn't play 16 games. We had our stuff just like everybody else, but everybody just dug their heels in, kept working and working, and we got to 12-4. And we deserved to be there."
A successful season is obviously a big step forward, but it's not the end of the journey. Sustaining success in the NFL is sometimes even harder, as the three teams that made the playoffs in 2012 but are hiring new head coaches this offseason will attest.
"I've seen teams that have struggled jump up and go 10-6, 11-5, then they drop back down. I don't believe that's going to be us," Gettleman said. "We've got a good, young corps. We've got a quality coaching staff. I believe that both the pro staff and the college scouting staff have shown that they know how to evaluate. We've got the quarterback, and we've got some good, young hog mollies.
"Is it sustainable? Yes it is. Am I going to make any predictions? No."
Added Rivera: "The things we need to improve on, we will. We're not satisfied, and it would be a huge mistake to think we're just going to show up and be 12-4 again. It's up to me to make sure that we go forward, get better and continue to grow."