PHOENIX – The Panthers aren't necessarily finished with free agency, general manager Dave Gettleman said Tuesday at the NFL Annual Meeting, but they are enough of a finished product to create the type of flexibility that Gettleman craves come draft time.
"The purpose of this roster-building time is to put yourself in a position so that when you get to the draft, it's not, 'I've got to have this. I've got to have that,' " Gettleman said, proclaiming that the Panthers have already reached that goal. "We're not finished. We're still kind of futzing with a couple of guys. We'll see what happens."
The Panthers are still "kicking the tires" with a couple of free agents like wide receiver Greg Jennings and cornerback Alan Ball, Gettleman said. But he added that the signings of left tackle Michael Oher and wide receiver Ted Ginn, Jr., in conjunction with the re-signings of defensive tackles Dwan Edwards and Colin Cole among others, have already made the roster stronger than it was at the end of last season.
"We've addressed the left tackle spot. We have addressed the speed wide receiver spot. We've got our whole front coming back with Dwan and Colin signing," Gettleman said. "I'm very pleased with what we've done. I told you guys that we would be able to step up in class (in regards to free agent spending) a little bit, and we've done that. We extended (tight end) Greg Olsen, which was very important for us. He just keeps getting better.
"I said we'd be able to move into mid-level deals, and that's what we did with (tight end) Ed Dickson, Dwan Edwards, Michael Oher and Teddy Ginn."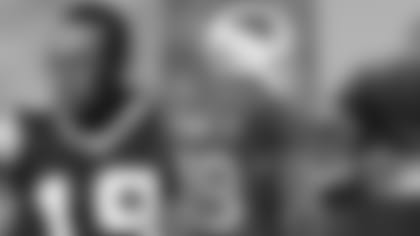 The Panthers signed Dickson to a three-year contract and Edwards, Oher and Ginn to two-year deals. Two years ago, Gettleman's first offseason as a general manager, the Panthers signed Ginn to a one-year contract, only to see him flourish to the point where Carolina couldn't afford him given his market and the Panthers' salary cap situation.
This offseason, with a little more cap room but with the continued goal of maintaining some wiggle room for some major re-signings to come, the Panthers signed the likes of Ginn and Oher to multi-year deals.
"Let's say for the sake of discussion that [Oher] hits it out of the park and now he's a UFA (unrestricted free agent) and it becomes, 'Can we afford him?' " Gettleman said. "Let's say hypothetically we can't afford him. Well, now you're looking at a fourth left tackle in four years. You can't operate like that. Not all parts are interchangeable. That was a big part of the two-year deal for Michael."
Being able to bring guys like Oher back in 2016 at what could qualify as a better price should help the financial picture going forward as the Panthers continue to work toward locking up core players long-term. It also helps create what Gettleman termed "cost certainty" – knowing in advance how much a given player will cost in the near future – and that's part of the reason Gettleman plans to exercise the fifth-year option on linebacker Luke Kuechly in 2016 just like he's doing with quarterback Cam Newton in 2015.
Ideally, it all works together to set the stage for the Panthers to draft, develop and eventually re-sign core players like Kuechly and Newton.
"If we just willy-nilly sign players, what are you guys going to say when I say, 'We don't have the money for Cam. We don't have the money for Luke. We don't have the money for KK (Kawann Short) and Star (Lotulelei) and eventually Kelvin (Benjamin)?' " Gettleman said. "How irresponsible would it be if I looked at Mr. (Jerry) Richardson and said, 'We can't sign so-and-so because we signed these three guys?'
"You have to identify your core. … You have to keep your core."
If there was a silver lining to losing Ginn for a year to the Arizona Cardinals, it came in the form of compensatory draft picks announced by the league at the kickoff of the owners meetings Monday. Ginn's departure was a part of the puzzle that led to the Panthers receiving two compensatory picks in the fifth round of next month's NFL Draft, increasing their total holdings to nine picks.
The league originally awarded Carolina a fifth-round pick and a sixth-round pick, the latter being a pleasant surprise for Gettleman even before it improved to a fifth-rounder. The fact that the Panthers now own three picks over a 14-pick span could open up some interesting possbilities. "We knew we were going to get one, but the second one was iffy. I don't know if you've ever looked at that compensatory pick formula. You've got to go to MIT and be a graduate in astrophysics to figure that out," Gettleman said. "(Director of team administration) Rob (Rogers) felt very confident we'd get a fifth, but the other one was up in the air. We were hoping for a seventh.
"You can't trade the compensatories, but if you look at us, the first compensatory in the fifth round, it's only eight slots below where we're taking, so it doesn't scare you to [trade] that fifth (pick). I'm not saying we're going to - I might sit and pick nine guys - but it gives you some flexibility."
And for Gettleman's game plan, flexibility is what it's all about.