After years of teaching and coaching and holding football camps at the high school level in a seemingly never-ending cycle to try and make ends meet, Dave Gettleman, now general manager of the Carolina Panthers, considered pursuing his master's degree in sports administration shortly after getting married in December 1984.
Shortly thereafter his wife, Joanne, became pregnant with the first of what would be three Gettleman children.
"We wanted her to be an at-home mom," Gettleman remembers. "I was a high school teacher at the time, I was the head football coach, I was umpiring baseball, I was running the camp - and I'm still not making any money."
Thus began a long and arduous road to the lofty NFL position Gettleman holds today. It wasn't easy, it was never guaranteed, and it may never have happened without the intervention of Bill Polian, who later became the Panthers' very first general manager.
The journey began one morning as Gettleman read The Sporting News and saw that Polian had just been hired as pro personnel director for the Buffalo Bills. Working in the National Football League seemed to Gettleman, at the time, little more than a distant dream.
But Gettleman knew Polian. He had asked Polian, then a scout with the Kansas City Chiefs, to speak at a football camp Gettleman had helped organize years earlier in Poughkeepsie, N.Y.
"This was back in the day before the Internet and all that. So I wrote Bill a letter," Gettleman said.
The letter would change the course of Gettleman's life. In it, he reminded Polian who he was - Polian remembered well - and told the new Bills' personnel man what he planned to do. Gettleman said he already had applied to master's programs at the University of Massachusetts and St. Thomas University in Miami, Fla., and both schools would require him to serve an internship to earn his degree. Would it be possible to get an internship with the Bills?
"Come on up and see me," Polian replied.
When they met, Polian was willing to offer an internship where Gettleman scouted pro games for the Bills.
"It doesn't make any difference to me where you go. If you're at UMass, I'll send you to the Patriots' games and if you're at St. Thomas I'll send you to the Dolphins' games," Polian said.
So Gettleman chose the warmer climate of Miami and the Dolphins' games, and quickly set about impressing Polian with his tireless work ethic and attention to detail.
"I saw very quickly that he was an absolutely 100-percent, solid-gold football man," Polian says now. "He had great instincts, understood talent, understood the game - and he had the ability to annunciate his feelings quite well. And he obviously was dedicated."
---
Shortly after completing his internship and earning his master's degree in sports administration (he earlier had also earned a master's degree in physical education from Southern Connecticut State), Gettleman received a phone call from Polian, asking him to come see him in Buffalo again. Polian by then had been promoted to general manager of the Bills.
"He's going to offer you a full-time job," Bob Ferguson, then a scout with the Bills, told Gettleman.
Gettleman was thrilled and sure enough, that's what Polian did. But Gettleman wasn't so enamored with the proposed starting salary. So before giving Polian an answer, Gettleman called his pregnant wife who was still in Florida, working as a preschool supervisor for children suffering from cerebral palsy. At the time, said Gettleman, she was "basically supporting the family."
"Honey," said Gettleman, "I've got good news and bad news."
"What's the good news?" Joanne asked.
"I've just been offered a job by the Buffalo Bills," her husband replied.
"What's the bad news?" she asked.
"It's for $18,000," he answered.
Gettleman's wife was making $21,000 at the time, and they had his school bills to pay, plus they were raising a growing family. The whole idea behind going back to school to gain his master's degree in sports administration was to find a job that would improve family's financial situation. But this was less than what Gettleman had been making as a teacher and coach with a football camp on the side.
"She tells the story now and admits when she got off the phone, she broke down and started crying, saying, 'What are we going to do?'" Gettleman said.
They talked again and decided there was one way to make it work. Gettleman saw Polian again the next day and said, "Bill, I want the job. But I need wheels. I got two cars, and one of them is an absolute junk-box. I can't travel and worry about if the car is going to start for her."
Polian chuckles about the story now, which he remembers well.
"In those days, there was not a lot of money in the National Football League. It was not a way to get rich," Polian said. "He talked me into giving him a company car, which I did."
Had he not, Gettleman is not sure he would have accepted the job that put him on the long, winding path to his own NFL general manager's position.
---
Along the way, Gettleman met numerous veteran scouts who, along with Polian, helped forge the inclusive philosophy he now incorporates with his own staff of talent evaluators. There was Elbert Dubenion, who went by "Golden Wheels," the nickname he earned as a fleet-footed wide receiver for the Bills when they still played in the American Football League. There was Ferguson, who would go on to become general manger of the Denver Broncos and take Gettleman along with him a few years later.
There even were scouts like Ernie Plank, who didn't work for the Bills but rather the San Francisco 49ers. Yet Gettleman credits Plank for teaching him the value of play speed versus what a draft prospect might be timed in the 40-yard dash. Even though he worked for another organization, Plank took the time to help school the younger scout, who was, by his own admission "no spring chicken by the time I started scouting." Then 35, Gettleman soaked up every piece of information he could.
"Ernie taught me about play speed, and I'm a big believer in that," Gettleman said. "To me, the 40-yard is an indicator. It's not something you just grasp onto and come hell or high water, that's what you're going to focus on.
"Ernie said they graded guys on play speed, and the story, of course, is Jerry Rice. On his best day, downhill, on roller skates, Jerry Rice was a 4.6 (in the 40-yard dash). Now did any of us ever see Jerry Rice get caught from behind? No, because he played a lot faster than a 4.6."
Gettleman noticed others over the years, such as Detroit linebacker Chris Spielman and Buffalo wide receiver Andre Reed, who proved to be bargains in the draft for their respective teams.
"Chris Spielman was a 5.0-flat guy. But Chris Spielman was just so instinctive and so quick. He played like a 4.7 guy. There are guys like that," Gettleman said. "Andre Reed was a 4.53, 4.54, 4.55 guy. But he'd get the ball on his gloves and he'd be gone."
Over time, Gettleman moved on from the Bills to the BLESTO scouting service to Denver. He was a regional scout for the Broncos when they won the Super Bowl in 1997. By this time, he had worn out one company car after another and also had piled up lots of frequent-flier miles.
"On average, it was probably 200 nights a year - in a nine-month period," Gettleman said. "It got to a point where I didn't want to know. My last year in Denver, I was on the road 220 nights in a nine-month period. That's a lot of time on the road.
"My wife and I celebrated our 30th anniversary back in December, and she's a Hall of Famer to put up with that stuff. It's amazing."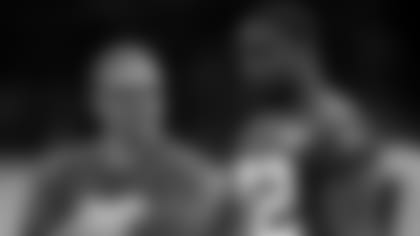 Gettleman joined the New York Giants' personnel department in 1998 and eventually spent 15 years with that organization, including 13 as director of pro personnel. While there, he learned an important lesson from long-time Giants head coach Tom Coughlin.
"In terms of building a roster, Tom Coughlin made a great statement to me many years ago. He said, 'Big men allow you to compete.' And it's true," Gettleman said. "The offensive styles and defensive styles are always evolving. But there are truisms about football that never change: you have to be able to run the ball, you have to be able to stop the run and you have to be able to rush the passer. If you can't do any one of those things, if you are seriously deficient in any one of those areas, it's going to be tough.
"So Coughlin taught me that big men allow you to compete. And everyone laughs at me about the Hog Mollies and looked at me like I had brain damage when we took Kony Ealy in the second round last year, another defensive end. But big men allow you to compete. You look at the teams that suddenly fall apart during the course of a season, and what happens quite often? It's the defensive line that's falling apart or it's the offensive line that's falling apart."
---
The bottom line is that Gettleman's system for evaluating draft prospects is a cross-section of all those he has encountered in his 30 years in the NFL. And still, to this day, none weighs more heavily than Polian's influence.
"You know, Bill was great. The thing I really liked was that he was very inclusive," Gettleman said. "And it's part of my philosophy here. I believe in collaboration.
"I would be in Bill's office as an intern, and (head coach) Marv Levy would come in and they would start talking, and I would get up to leave. Bill would say, 'No. Dave, stay, pay attention.' So I got a great education. I was very fortunate."
Gettleman employs a modified system of evaluation that incorporates all facets of the education he has culled over the years.
"Dallas was the first team that really came out with a system of evaluation, and that's really what a lot of teams use now," he said. "They had two separate folders. They had a critical factors (folder) and they had a position specifics (folder).
"Critical factors are instincts and intelligence, athletic ability, competitiveness, strength, explosion - and I've added play speed to those critical factors for us. If you think about it, it doesn't make any difference what position. If a guy is going to score high in those critical factors, there's no reason he can't play the game at our level.
"If there are critical factors they aren't strong in, when I evaluate players I have a right column and a left column. What can they do and what can't they do. Whenever I'm done watching film on a certain player, I go to what can't they do first. And I say to myself, 'What can be fixed?' If it's athletic ability, you can't fix it. If he's not strong, maybe you can get him in the weight room and you can fix that. So that's what you look at, what can you fix?"
As for the other folder, Gettleman added: "The positions specifics, for example, are if he's a linebacker how does he use his hands? Things like that. You can teach those things. So it's the critical factors that really become important."
Again, Gettleman said discussions on players generally come back to what he first learned under Polian.
"One of the things Bill taught me was when you're looking at the top of the draft, you have to ask yourself, 'Why are they going to fail?' And as you work your way down into the draft, you have to ask yourself, 'Why are they going to make it?' It's the old saying, 'In order to get to the right answer, you have to first ask the right question,'" Gettleman said. "There are a lot of things I learned there that I apply now. I've been fortunate, because everywhere I've been, the people I've learned under knew their craft."
---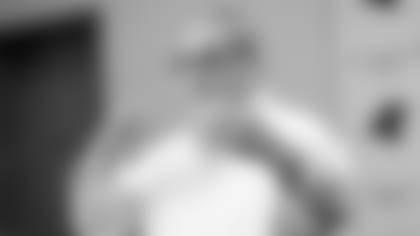 Gettleman caught considerable criticism when he used the first two draft picks in his Carolina tenure to select two players who play the same position - defensive tackles Star Lotulelei and Kawann Short. Then, after grabbing wide receiver Kelvin Benjamin with last year's first-round pick (No. 28 overall), he chose another defensive lineman in Ealy.
Gettleman said it is a matter of trusting your system of evaluation and the draft board it produces. He insisted that to be swayed from selecting the next-best player available on that board simply because your team needs help at another position is a highly dangerous proposition.
"It's important because what will happen if you draft on a need-basis, you're going to reach," he said. "You're sitting in the first round and you say, 'I need this.' But if the best player you have rated at this position you have as a second-round value and you reach for him, nobody cares that you had a second-round value on him. You took him in the first round. It creates unrealistic expectations.
"So if you reach, more often than not you're going to get burned. It doesn't work. Did we need a defensive end in the second round last year? Nobody thought we needed a defensive end there. But in that spot, he was the best value - the best player available. Kelvin (Benjamin) was the best player available when we drafted in the first. Kony was the best player available in the second.
"In my first draft, we had KK (Short) as a first-round value, the bottom of the first round. So we're sitting there with the 44th (overall) pick and he's available. So what am I going to do, all the sudden go against where we've got this guy graded? I don't care that I took a defensive guy already."
Put in the work to evaluate players properly, Gettleman says, then build your draft board and trust in what it tells you. But he said there can absolutely be no shortcuts in the evaluation process at any level.
"A lot of it is tape. There are no shortcuts. There are some guys who want to be IEs - Instant Evaluators, I call them. They watch 10 snaps and think they know a guy, and that's a crock. I believe you have to just grind through the tape," Gettleman said.
His first two drafts and how he has otherwise conducted business during his time with the Panthers have drawn high marks from not only one of his Carolina predecessors in Polian, but also from the man he replaced, Marty Hurney.
Hurney first got to know Gettleman through former Panthers head coach John Fox, who had been the Giants' defensive coordinator when Gettleman was the director of pro personnel. The three men actually would sit together every year at the NFL Scouting Combine in Indianapolis.
"He's an excellent football man, and he's a great guy," Hurney said. "I like Dave as a person and I respect him a ton as a general manager and as a personnel guy and just an excellent football guy. I think he's doing a tremendous job.
"He's a good evaluator. And I think he really knows how to put a team together. You can tell by what he's done that he's got a formula and a blueprint."
Polian said Gettleman the student has once again become the teacher, but now at a different level where he is compensated more generously for it. And he said Gettleman is worth every penny of whatever the Panther are paying him come draft day.
"He will not be swayed by outside noise," Polian said. "He will not be bothered with anything that is written or said about any prospective player. He's going to make the judgment that he's going to make based on his experience, based on his evaluation and based on the input he gets from evaluators he trusts on the staff.
"I would say he's learned his craft pretty well."