MOBILE, Ala. – When general manager Dave Gettleman reviewed the 2016 season, he would see a different Panthers team at different times.
Every team in the NFL strives for consistency – from week to week and from quarter to quarter. The Panthers didn't have it throughout their 6-10 season.
"The one thing that stuck out was the inconsistency across the board," Gettleman said. "We have to stop that. We have to play smart, focused football and pay attention to the details. That maybe got lost a little bit."
But all was not lost. Gettleman rattled off a number of encouraging signs – the development of rookie cornerbacks James Bradberry and Daryl Worley, linebacker Shaq Thompson's rise and wide receiver Kelvin Benjamin's finish.
Gettleman was particularly pleased with the stick-to-itiveness the Panthers showed even after the playoffs were out of reach.
"We had a rough season, but our guys never quit fighting," Gettleman said. "I'm really proud of Ron (Rivera) and the guys for that. To a certain degree I felt like it was like when I walked in in 2013 and watched the 2012 tape – a team that was decimated by injuries, but guys were fighting their fannies off."
The 2012 Panthers finished 7-9. In 2013, Gettleman's first season in Carolina, the Panthers went 12-4.
Gettleman is hoping for a similar turnaround in 2017, and that starts with the roster-building process.
After a few days in Mobile to observe the Senior Bowl practices, the Panthers' front office will prioritize free agency.
"We have a number of UFAs (unrestricted free agents), so we have to plan and make decisions on our UFAs first," Gettleman said. "Before we see what our needs are in (the open market) we have to see who we are going to bring back. That's our first focus."
As for who those UFA priorities will be, Gettleman said "anybody can identify the guys we want." The names at the top of the list are defensive tackle Kawann Short (17 sacks over last two years), defensive end Mario Addison (team-high 9.5 sacks in 2016) and wide receiver Ted Ginn, Jr. (14 touchdown catches over last two years).
It remains to be seen how negotiations will play out, but Gettleman has always believed that free agency serves to address needs so the best available player can be drafted when the Panthers are on the clock.
There will be many enticing options to assess with the eighth overall pick – the earliest draft position for Carolina since the franchise selected linebacker Luke Kuechly with the ninth pick in 2012.
"Sitting up at eight, you are going to be looking at a number of really good players," Gettleman said. "Not happy about (earning the eighth pick), but it is what it is. There are going to be a number of quality of players. Who fits us best? Who can move in quickly?
"We have a chance to really improve our club. We're going to go with the best player at No. 8, and there will be options."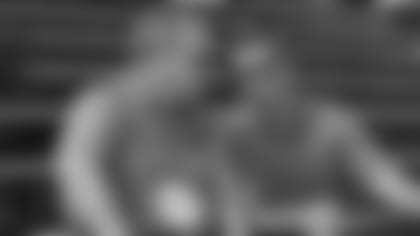 ---
Offensive tackle situation: The Panthers are evaluating a variety of possibilities at offensive tackle with Michael Oher's status still uncertain after he was placed on injured reserve with a concussion.
"We're going to look at players, because right now we just don't know," Gettleman said. "We want what's best for Michael."
It's not a deep offensive tackle class, but Gettleman will explore every avenue to add talent at the position.
"We're going to look at what tackles are available in free agency, look at what is available in the draft and see where they fit," Gettleman said. "I'm not going to overdraft, I'm not going to overpay. But we're going to attack the issue."
Belief in Butler: Defensive tackle Vernon Butler played in 10 games and posted just 1.5 sacks during his rookie year, but Gettleman believes big things are in store for the first-round pick.
"Vernon, it killed me when he got hurt with the ankle sprain. Every snap is part of his development," Gettleman said. "But he did not disappoint at all. He is going to be a hell of a player."