SPARTANBURG, S.C. – Ted Ginn, Jr. is still a few years from taking advantage of AARP benefits, but the 31-year old wide receiver did benefit from his advanced age Tuesday when he was granted a "vet day" and watched practice from the sideline.
"I didn't expect it, but I guess when you get up there in age, they tend to look out for you from time to time," Ginn said. "Some of these guys are 21, 22. I don't consider myself an old guy, but to those guys, I am kind of up there.
"But I'm happy to be where I am."
Ginn, selected No. 9 overall in the 2007 NFL Draft, is one of just three players drafted in the top 10 that year still in the league. But Ginn isn't ready to head quietly into the sunset – far from it in fact. Entering his 10th year in the league, Ginn is coming off a 10-touchdown season – one receiving touchdown shy of matching his career total entering 2015.
Jerricho Cotchery was the senior member of Carolina's receiving room last year, but with Cotchery no longer on the team, Ginn is now the leader in more ways than one. For starters, his 255 career receptions are 22 more than Panthers' other 11 receivers combined, and his 3,533 yards are 335 more. The others have more receiving touchdowns than Ginn (25 to 21), but throw in Ginn's seven career return touchdowns, and he has reached the end zone 28 times – two more times than everyone else.
This year, Ginn is embracing a leadership role befitting of those numbers. Yet, it's not really about the numbers at all.
"It's my room. No doubt about it," Ginn said. "I think all the guys in there respect me for who I am, and I respect them for who they are. We have great communication in there. We're all one.
"My goal is still the same – to be a team player, do what I do for my team, make sure the guys in my room are educated and ready to play. That's all I can really do."
Ginn is quick to credit another guy in the receiver room, a guy who managed to play 17 years in the league, for his recent run of success.
"Ricky Proehl, I credit him for reaching down inside of me and bringing out the things I'm good at and the things that I could do better," Ginn said of his wide receivers coach. "Without Ricky being straightforward with his answers and the way he talks in that room, I don't think that room would be what it is."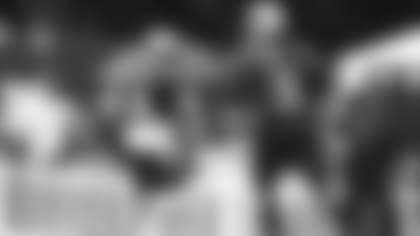 What the room is, Ginn believes, is one of the best in the NFL. Ginn said a brotherhood formed among the group last season after top target Kelvin Benjamin was lost for the season at training camp, and now Benjamin is back and ready to only add to the NFL's top-scoring offense from a year ago.
Ginn's speed remains his greatest asset on the field. He's faster than any 31-year-old probably should be, and he points out that some athletes that he competed against as an elite high school track athlete are currently competing in the 2016 Summer Olympics in Rio.
Because of the influence of his father - a legendary high school football coach in Ohio - Ginn joked that he's been a coach since age 5. He said he could see himself coaching after his playing days – perhaps in track and field.
But for now, Ginn is more than content to be a leader on the football field.
"Being in this league for 10 years is not easy," he said, "so being able to come out and compete and be on this team is great."
View photos of Carolina's 11th practice at training camp.