CHARLOTTE – Wide receiver Steve Smith and tight end Greg Olsen didn't play a single snap in the Panthers' preseason finale against the Pittsburgh Steelers.
Contrary to what some observers may have expected, the Panthers still completed a pass…and another pass…and another pass.
The biggest beneficiaries were newcomers Ted Ginn and Domenik Hixon, who combined to haul in eight passes for 193 yards and two touchdowns in Carolina's 25-10 victory.
"You hear commentators say, 'They only have one receiver,' " Hixon said. "That's fine. People can think that, but we're just going to go out and do our best and make plays.
"I almost like it when people doubt you."
The Panthers directly addressed the doubters Thursday, especially in the case of the perpetually questioned Ginn.
A year ago, when the San Francisco 49ers used him almost exclusively as a returner, Ginn recorded two receptions for one yard in the regular season. Thursday, he caught two touchdown passes covering 122 yards – a 35-yarder on the game's opening drive and an 87-yarder late in the first half.
The scores came one week after Ginn showed that he's still at the top of his game in the return game, when his first special teams touch as a Panther resulted in a 74-yard punt return touchdown.
"I just felt like once I got with some new coaches and they saw what I have, I knew they'd take it and enhance it," Ginn said. "That's what they've done.
"I've always tried to be a spark. I started it off last week with the punt return and then was able to come back this week with two touchdowns. I was lucky that I was the guy that made those catches. We had several great catches."
Both touchdowns came courtesy of quarterback Derek Anderson, who completed 10-of-15 passes for 220 yards in less than two quarters of work. Ginn said a Steelers safety gave Anderson just enough of a window on the first touchdown, while the second one was just a matter of Anderson being able to get the ball out fast enough and far enough after Ginn blew by safety DaMon Cromartie-Smith with seeming ease.
"I threw that ball a long ways, and he still almost had to slow up," Anderson said. "You can't really throw it far enough. He has great closing speed on the ball."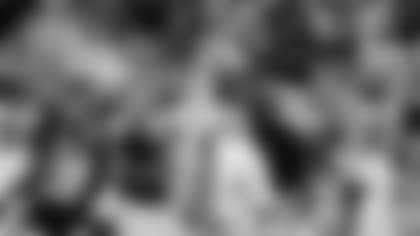 Hixon also closed fast in his own way. A consistent receiver when healthy over six seasons with the New York Giants, good health again eluded him this preseason before a nagging hamstring problem cleared up enough for him to play. Hixon took advantage of his first action with three catches for 43 yards, highlighted by a 23-yarder early in the second quarter just before he called it a night.
"I really enjoyed myself. I felt a little rusty, but I'll just continue to work hard," Hixon said. "It was great to get a win and have some fun out there."
Even though the Panthers immediately reverted to an 0-0 record following the victory – they open the regular season Sept. 8 against the Seattle Seahawks – the win was an important one. As head coach Ron Rivera made a point to tell the team after the game, the victory gave the Panthers their first winning preseason mark since 2006.
Rivera obviously hopes their winning regular season record since 2008 will follow, a cause that Ginn and Hixon appear poised to help.
"Ted Ginn did a nice job, and it was great to see Domenik Hixon out there," Rivera said. "I think both of those guys will be great additions to what we want to do as far as our offense is concerned.
"That is what we're looking for."