CHARLOTTE – Wide receiver Ted Ginn has been known more as kick returner Ted Ginn in recent years.
That speaks to his ability on special teams and his limited role in the San Francisco 49ers offense over the last three seasons.
And when it comes to returning kicks, the explosive Ginn is one of the league's best.
"He's a natural at it," head coach Ron Rivera said.
Ginn has a 23.2-yard career kick return average with three touchdowns. This past season, Ginn ranked third in the NFC with a 10.3-yard punt return average.
The year before, Ginn became just the 12th player in NFL history to return a kick and punt for a touchdown in the same game.
Ginn opted to sign with the Panthers as an unrestricted free agent this offseason, and his return skills have already made an impression on Rivera.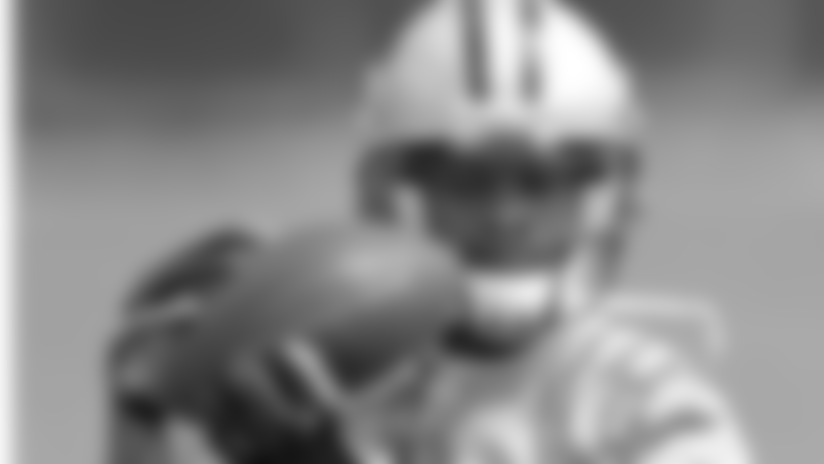 "You hear things from the outside about players and then when you see them for yourself, you sit there and go, 'Wow,'" Rivera said.
Ginn wants to continue to make an impact in the return game like he's done throughout his career, but he's also intent on acquiring more responsibilities as a wide receiver.
"I think I am a triple threat," Ginn said, referring to his abilities as a wide receiver, kick returner and punt returner. "I think I can do it all. I have to learn the playbook, run routes consistently and just stay with it."
Ginn wasn't often featured in a 49ers offense that was crowded with talent. He had just two receptions for one yard in 13 games played in 2012.
His most productive season offensively in San Francisco came in 2011 when he recorded 19 receptions for 220 yards and a touchdown.
In terms of a role in the offense, it was a step back from what Ginn had experienced in his first three seasons with the Miami Dolphins, who drafted him ninth overall in the 2007 NFL Draft. He started 35 games for Miami, averaging 43 catches and 555 yards per season.
To earn a substantial role in the Panthers' offense, Ginn will have to outperform several wideouts locked in a heated competition for playing time behind Steve Smith and Brandon LaFell.
"We have a great group of guys," Ginn said. "We have guys in that room that are ready to compete and that can play."
The coaching staff will be closely monitoring that wide receiver battle, and through two weeks of OTAs, Ginn has begun to assert himself in the competition.
"Watching Ted's speed, his quickness, his route running – he's catching everything right now," Rivera said.
There's still plenty of competing to do before the start of the regular season, but Rivera is eager to see if Ginn can take hold of an opportunity at wide receiver that is there for the taking. 
"I hope so. I really do, just because of his abilities," Rivera said. "He's flashing out here (in OTAs) and we're excited about who he can be for us."