CHARLOTTE – When newly hired general manager Dave Gettleman recounted his late mother-in-law's description of him as "what you see is what you get," Gettleman briefly was overcome by emotion.
But as the self-described simple man tackles a not-so-simple job, he won't allow emotion to override his objectives.
The newest member of the Panthers family is just beginning to develop attachments but still has the perspective of an outsider, something that should serve him well as begins the task of building a salary-cap-compatible roster that can compete for years to come.
The possibilities do stir his emotions.
"I told (head coach) Ron (Rivera) when we had breakfast Thursday morning: 'If we do this right, you and I are holding up a trophy with Mr. Richardson,'" Gettleman said after being introduced by owner/founder Jerry Richardson at his first press conference Tuesday at Bank of America Stadium.
"I'm very fortunate to come to an organization with similar philosophies to the one I just left – doing business with integrity and honesty, as well as having a similar structure and a family atmosphere," added Gettleman, who spent the last 15 seasons with the New York Giants. "I'm excited to work with and learn from the current Panther family. From this point on, it's about working together to fulfill Mr. Richardson's dream."
Richardson fulfilled Gettleman's dream last week by granting the 61-year-old his first shot at general manager - or "king" as Gettleman jokingly called it - after 26 years in the NFL. Now Gettleman is charged with helping Richardson fulfill his ultimate dream - winning a Super Bowl.
It's a dream that Gettleman already has lived out three times, mostly recently as senior pro personnel analyst for the Giants one year ago.
"This process has been interesting in the selection of Dave. We had some extraordinary candidates," Richardson said. "One of the things that attracted all of us and particularly me to Dave was the fact that he had been with an organization that I have a very high regard for, as well as his experience level."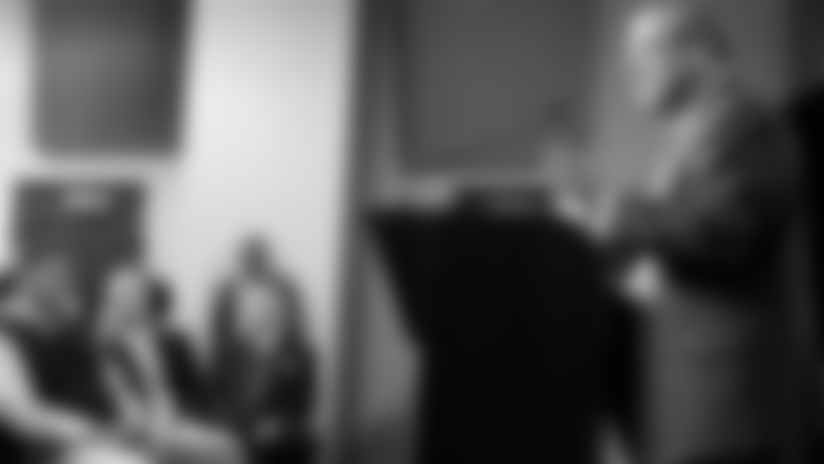 Richardson added that general managers are called upon to "fix things," a never-ending process that Gettleman began Monday.
He's already working with Rivera to hire several new assistant coaches, foremost among them an offensive coordinator, but Gettleman has no initial intention of making changes to the staff already in the building.
"Moving forward, my plan is to work with the current Panther family to get this thing right," Gettleman said. "I told Ron, 'I don't have a list of head coaches in my back pocket. I have no interest in that.' I told the pro (personnel) guys already and I will tell the college guys that I don't have a list of personnel people in my back pocket.
"I'm going to let everybody know exactly what I'm looking for, I'm going to give everybody the tools the tools to get it done with, and then we'll evaluate as we move forward."
Gettleman can't afford to take the same tact with the roster. Over the next two months, he must work to get the Panthers' 51 highest-paid players under the league's salary cap, a process that will require some difficult decisions.
While Gettleman hasn't been the one making the final decisions in his previous roles, he's qualified to do just that. Regarded as a top-notch talent evaluator throughout his NFL career with the Giants, Denver Broncos and Buffalo Bills, Gettleman knows what it takes to shape winning rosters.
"The first thing you have to do is properly evaluate your team. You have to do it unemotionally. You have to do it objectively," he said. "When it comes to the cap, the most important thing you have to do is put the proper value on the player. You get into trouble when you overpay. The litmus test on the cap is, 'If the ink is dry and you're not happy, then you made a mistake.' That's basically it.
"We'll sit down, discuss the issue, we'll make sure we ask the right questions so that we'll get the right answer, and then we'll make decisions. If it's a situation where I have to make a unilateral decision, that's a part of the gig. That's my job. That's what Mr. Richardson has hired me to do."
The cupboard isn't bare, as the Panthers proved with their 5-1 finish to the season.
Now Gettleman, as prepared as is possible for a position he's never held, is charged with putting the finishing touches on what the Panthers have started.
"The biggest thing I've run is a pro department – that's six people. You're talking about a whole different ball of wax," Gettleman said. "The thing that makes football so difficult is the moving parts. You've got an 18-man coaching staff, 61 players that are practicing and support staff all over the place. Then you get onto the field, and you've got to get 11 guys doing the right thing on 65 snaps on average.
"That's not easy. I get that. But if you do your job during the week, you'll sleep good on Saturday night and you'll be fine on Sunday."