PHOENIX – A multitude of resolutions and rules changes were voted on at the NFL Annual Meeting that concluded Wednesday, prompting NFL Commissioner Roger Goodell to end the proceedings by telling reporters that the league's owners had "a very productive few days."
No truly game-altering decisions were reached, but some huge ones remain under serious consideration.
New England Patriots owner Robert Kraft made news earlier in the meetings by expressing his belief that Los Angeles would have two teams in 2016 after being without one since the Panthers debuted in 1995. Goodell wouldn't go that far but also didn't dismiss the possibility.
"We're not focused on '16," Goodell said. "Right now our focus is on the process and making sure we're evaluating the opportunities in their existing markets and making sure we understand that and also making sure we understand what it takes to be successful in Los Angeles long term."
It's been widely reported that the St. Louis Rams and Oakland Raiders - who both left Los Angeles following the 1994 season - as well as the San Diego Chargers are considering relocating. While the NFL hasn't officially acknowledged the clubs, Goodell matter-of-factly referred to "hearing from all three teams" in his press conference.
Carolina Panthers owner/founder Jerry Richardson serves on the Committee on Los Angeles Opportunities. He, along with five other owners, will evaluate the various stadium options available in Los Angeles, oversee the application of the relocation guidelines in the event that one or more clubs seek to move to Los Angeles, ensure proper coordination with other standing committees, and confirm that all steps taken in Los Angeles are consistent with the Constitution and Bylaws and NFL policies.
Goodell said another potential major change that has gained some traction the last couple of years – increasing the number of playoff teams from 12 to 14 – was again part of a "healthy discussion," but "several factors went into the decision to, at least, postpone the expansion of the playoffs."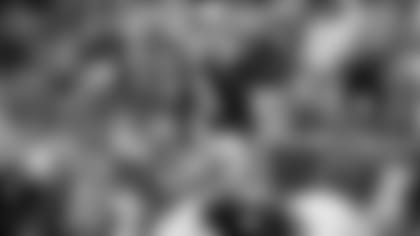 STILL KICKING IT AROUND: While decisions regarding Los Angeles and playoff expansion might not be made for a while, the league appears to be moving closer to changing what is currently the most routine play in the game – the extra point.
"There's a clear sentiment that there's a movement to want to change and want to change this year," NFL Competition Committee chair Rich McKay said. "All teams pretty much said the same thing - that it's time to make this a football play."
Teams aren't, however, saying the same thing when it comes to the specifics of a possible change. The Patriots proposed moving the ball from the 2-yard line to the 1 to tempt teams to opt for a two-point conversion. The proposal wasn't voted on, but McKay said he expected the committee and coaches to continue discussions and possibly settle on a proposal for a vote by owners at the league's meetings in May.
McKay said there was some traction for giving teams the option to either go for two from the one-and-a-half or move the ball back to the 15 for an extra point. The most unorthodox proposal was authored and then withdrawn by the Indianapolis Colts: reward a successful two-point conversion with a 50-yard kick for one additional point.
SAFETY FIRST: Most of the rules changes adopted involved player safety, highlighted by a rule that will allow an independent certified athletic trainer to wirelessly contact on-field officials and instruct them to immediately remove a player who appears to need medical attention.
Such spotters have been used in the past but only had the ability to inform a team's medical staff of a potential concern. In Super Bowl XLIX, Patriots wide receiver Julian Edelman appeared to be dazed by a big hit but didn't leave the field and ended up catching the game-winning touchdown pass.
"The game is so fast, and there's so much going on that a guy can look like he's concussed but people can miss it," Panthers general manager Dave Gettleman said. "And we know that players for the most part aren't going to take themselves out of the game, so I think it's a great idea that will be good for the game. It really addresses player safety."
Owners also approved stricter safety guidelines involving defenseless players, chop blocks, peel-back blocks and the pushing of teammates by punt block teams.