CHARLOTTE – Greg Olsen is entering his 12th NFL season, and at that point, it's reasonable to think workouts in April can get a bit stale.
But his enthusiasm hasn't waned.
"I enjoy coming to the building and being around the guys," Olsen said Tuesday morning. "I enjoy the banter, the energy, the workouts, the training."
Olsen banters with the best – it usually takes one step inside the locker room to recognize that. The 33-year-old is full of energy. And he's known for his commitment to his training regimen.
"I always told myself: As long as I enjoy this part, the season is the easy part," Olsen said. "I think older guys start losing interest and burning out in times like February – starting from scratch, laying out your program throughout the winter and spring. It takes a lot of time if you're going to do it right."
Olsen believes he's capable of playing for several more years, and he wants to. But the three-time Pro Bowler, who missed nine games last year with a broken foot, is only under contract through the 2018 season.
"It's a huge year for me," Olsen said. "This is my last year on my deal. We did the extension before the Super Bowl year, which now feels like a long time ago. I've been able to keep playing well, but unfortunately last year I broke my foot and missed half the season. I was still able to come back and play well. I know I can play for years more if I want to. I'm not concerned about that.
"We'll see what the future holds. It takes two to tango, so we'll see how the team feels. If we can't get anything done this year, then next year I'll become a free agent."
Olsen has never tested free agency, and he prefers to finish his career in Carolina. His ideal situation would be to hammer out an extension prior to the start of the season.
"It's no secret I'd prefer to get something done this offseason and not go into the season on my last year (of the deal)," Olsen said. "But if not, we'll play out the year and prepare to test free agency."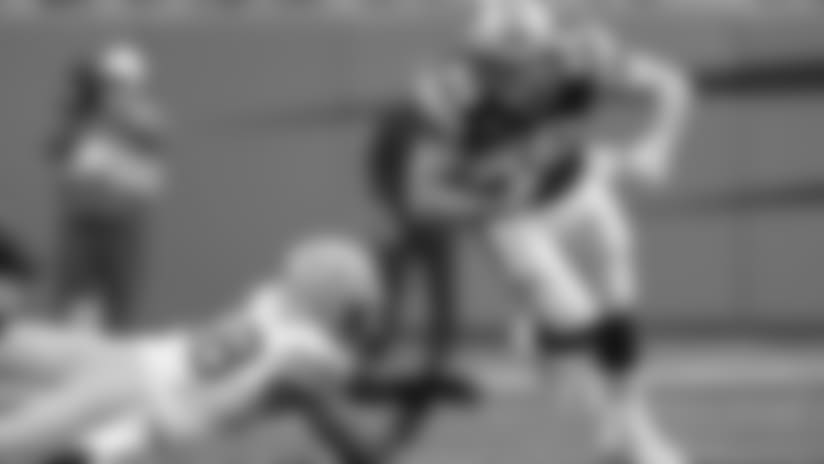 Olsen is prepared for the future on a couple of fronts.
Take the upcoming draft, for instance. The Panthers haven't selected a tight end on the first or second day of the draft during Olsen's tenure. But after Ed Dickson signed with Seattle and the Panthers didn't land a replacement in free agency, there's a decent chance an addition comes via an early round of the draft.
"I prepare myself every year for the possibility they could draft a guy to come in here, whether he's my successor or replacement or however you want to look at it," Olsen said. "I think it would be great to get a young guy in and work with him and help him with some of the things I've learned the past 11 years. I think our room has a lot to offer. If I were a young guy I would want to come into a room like ours and learn from (coach) Pete (Hoener) and our group.
"I'll do everything I can to help just like Desmond Clark did for me when I got drafted in Chicago. But – just like Des helped me – by no means did he just turn over and play dead. I don't have any interest in doing that either. The reality is, the young guy is going to have to be pretty good to take it away from me. That's my approach and how I believe in going about my business. If you don't feel that way, you're going to get beat out pretty quick."
Olsen has also been preparing for life after retirement. His recent audition for a commentator role on ESPN's Monday Night Football crew, a position that needs to be filled for the 2018 season, sent shockwaves through the fan base.
"Any time you get an opportunity like that you'd be silly not to go through it and get that experience under your belt, get that practice," Olsen said. "It was more of an experience thing, and on their end more of a due diligence thing, which I was cool with. I haven't called many games, although I did a similar type of audition years ago out in L.A. for FOX – the difference is nobody knew until now. And of course I called the (Vikings-Rams) game last year.
"I gave the team a heads up. I assumed it was going to come out and I wanted Ron (Rivera) and Marty (Hurney) to hear it from me. After it came out, I was glad I did that. But I get it – I understand everyone's initial reaction."
Panther fans aren't ready to picture life without Olsen. That's not something he's ready for either.
"I'm feeling good," Olsen said. "Physically and mentally, I still enjoy playing and preparing myself. In that regard, I feel like I'm as good as I was five years ago."