CHARLOTTE – When Greg Olsen played in his first Wells Fargo Championship Pro-Am two years ago, no one knew if we'd see Tiger Woods on a golf course again. But there he was Wednesday, about a half a dozen spots down the driving range from Olsen as the tight end warmed up for his return Pro-Am appearance. 
"(Woods') swing's a little smoother than the guy's bag I'm carrying," Olsen's caddie Luke Kuechly admitted. 
Maybe not the best pre-round speech, but … yeah. 
For Kuechly, it was the five-time Pro Bowler's second time dutifully lugging Olsen's bag around Quail Hollow Club on a sun-splashed day with temps in the mid-80s. 
"I've got the most expensive caddie in PGA Tour history on my bag," Olsen quipped, "so I'm in good shape."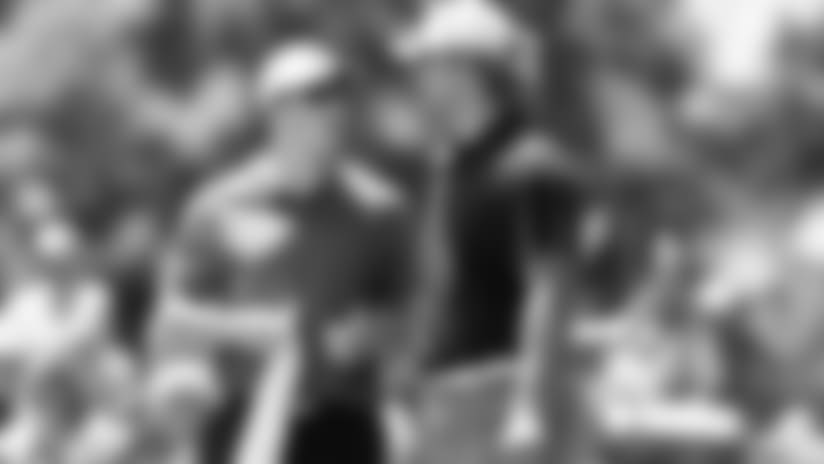 Like in the spring of 2016, shoulder surgery is why Kuechly was carrying clubs instead of swinging them. But while he can't fully participate in the Panthers' offseason program again, he began making daily stops at Bank of America Stadium long before his teammates returned last month. 
"You deal with it once; you know what you're going to get and do it again. It's just a bummer that you're not going to be doing the OTA stuff. I think that part's fun," the football-loving linebacker said. 
So was Wednesday, even if Olsen wasn't like Woods and Kuechly was just doing his buddy a solid. 
"I'm getting zero," Olsen said when asked if Kuechly gets a percentage of winnings, "so he gets 100 percent of what I get."
View photos of Greg Olsen as he plays in the Wells Fargo ProAm with Luke Kuechly as his caddy.