CHARLOTTE – When you've got 160 NFL games under your belt, a light Monday practice in November doesn't usually cause much of a stir.
But this was an important practice for Pro Bowl tight end Greg Olsen, who had been sidelined for nine weeks with a broken foot.
"There was a little anxiousness," Olsen admitted. "I kind of got up this morning early and, you know, you just want to make sure you remember how to do this. There is a little bit of a learning curve again when you've been out for a while.
"Getting the rhythm, the footwork down, the cutting in and out of breaks – just things that you take for granted."
A prolonged absence like this was completely foreign to Olsen. Prior to the 2017 season, he had only missed two games in his entire NFL career – and that was when he was a rookie with the Bears 10 years ago.
"I'm just excited to be back in my routine and be back around the guys, be in meetings, be at practice and get going," Olsen said. "It was a good first day. Nice to get your legs back under you a little bit, get some routes in, get in the run game a little bit and move around…
"I don't know if I was breaking any records, but it was a good start."
Said head coach Ron Rivera: "Greg had a good day. It was limited exposure, but the things that he did, he did well and he did them at full speed."
As Rivera is always quick to point out, the athletic training staff will be eager to see how Olsen responds to his first practice participation in over two months.
But the targeted return to game action this Sunday against the Jets appears very much within reach.
"That's the plan," Olsen said.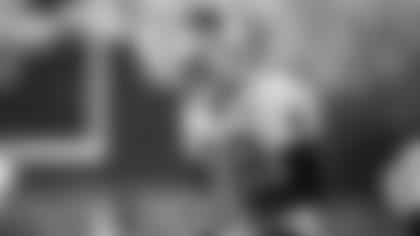 ---
Olsen much prefers playing games to talking about them – for now at least. But he thoroughly enjoyed the opportunity to serve as a television commentator for FOX during the Vikings-Rams game this past Sunday.
"It was a great experience," Olsen said. "I really enjoyed it, and I'm glad I did it."
Rivera, like many others, remarked that Olsen sounded like a natural during the broadcast.
"I'll take the good reviews," Olsen said with a smile. "It got off to a rocky start last week. I'm glad it ended well."
Olsen was referencing the Vikings' displeasure over Olsen being in the booth for their game a few weeks before the Panthers host them in Charlotte.
Rivera was asked in jest if Olsen brought back any secrets.
"Without a doubt," Rivera joked. "We've got a whole file."