CHARLOTTE – Most record-breaking efforts are reason for celebration, but after Carolina's result against Tampa Bay, the Panthers were left to only hope for better next Sunday.
A week after witnessing wide receiver Julio Jones rack up 300 yards of his own, Panthers tight end Greg Olsen did his best to put up similar numbers. He caught nine of the 13 passes quarterback Derek Anderson threw his way and amassed 181 yards, the most in his 10-year NFL career and the most ever for a Panthers tight end.
Not only did he set a new personal and team best; he also surpassed Kellen Winslow, Sr. for eighth all-time in tight end receiving yardage.
It was not unexpected that he would find success with Anderson under center. In the quarterback's two previous Panther starts, Olsen collected 18 catches for 193 yards. They continue to build on that chemistry on a weekly basis, running the same drills, in the same order, in the same spots on the field before every game.
Unfortunately, it came in a 17-14 loss to Tampa Bay.
"Greg is just consistent," Anderson said of his favorite receiver's success. "He works every day, and you know what you're going to get out of him. He's obviously great and a great asset to our team."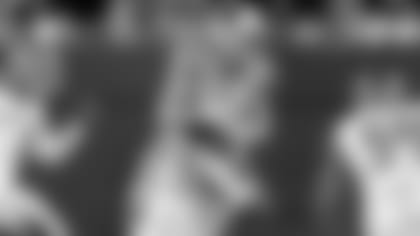 Of course, the record Olsen is concerned about cannot be found in the Panthers' or the NFL record book. Instead, it is the two numbers attached to the entire Carolina Panthers organization: 1-4.
"We're not going to play the next 11 games at once," Olsen said. "That's just the reality. This is not a game for the faint of heart. There's a lot of pressures. It's a pressure-filled industry, we all know that. Everyone's jobs are on the line. It's a production-based industry. We get it. We know. This is what we signed up for, and we're not going to come in Wednesday and feel bad for it.
"New Orleans doesn't care. New Orleans is coming off a bye ready for us to come down there, and they think they're going to beat us. That's the way the NFL works. There's no breaks, there's no days off. We've got to get back to work here and try to get our second win and take it from there."
Although Olsen did his part and produced almost 44 percent of the Panthers' 414 total yards, it was not enough to propel the Panthers into second place in the NFC South and snap what is now a three-game losing skid.
"I thought Greg had a great day," head coach Ron Rivera said. "He did some big things for us. He put us in position and helped give us a chance to win. It's unfortunate we have to waste a great effort from what he did."
View game action photos from Carolina's 17-14 loss to Tampa Bay.