OAKLAND, Calif. – Tight end Greg Olsen is known among Panthers fans as Mr. Reliable.
It's a reputation that has been well earned, and it's why everyone – Olsen included – was in disbelief during Sunday's loss to the Oakland Raiders.
A blocked extra point caused the Panthers to go for two midway through the third quarter, and quarterback Cam Newton's pass was too high for wide receiver Philly Brown, so the score remained 24-19 in favor of Oakland.
After running back Jonathan Stewart scored his second touchdown to put Carolina ahead 25-24, the Panthers again went for two hoping to make it a three-point game late in the third quarter.
Newton looked left and fired a low strike to Olsen. But the ball slipped out of his grasp and fell incomplete.
"We had a chance to make up for (the blocked PAT), and I just dropped it," Olsen said.
Wide receiver Kelvin Benjamin's 44-yard touchdown catch and the subsequent extra point early in the fourth quarter gave Carolina a 32-24 lead. The Raiders responded with a touchdown drive and successful two-point conversion to tie it.
In the closing minutes, Oakland put together an 82-yard drive to set up Sebastian Janikowski for the go-ahead 23-yard field goal. But there was still 1:45 on the clock and one timeout available for the Panthers.
The drive started with a crisp 20-yard pass to Olsen, and three plays later, Carolina faced third-and-10 from the Oakland 44. That's when Newton looked for Olsen down the middle. The Pro Bowl tight end got both hands on the pass near the 20, but he couldn't corral it.
Newton was sacked to end the game on fourth down.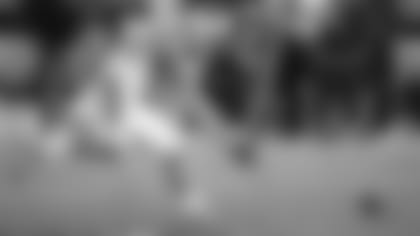 "I tried to go up and get it and couldn't quite get both my hands up there high enough. It kind of went off the end of my finger," Olsen recalled. "I'd like to have that one back, obviously. That's usually a play that I make. Just couldn't quite get enough of the ball to hold it. It's a tough one."
Olsen is as accountable as he is dependable. In his postgame analysis, he was extremely hard on himself for dropping the two-point conversion.
"That two-point conversion, that ended up really being the difference," Olsen said. "We would have been up 10 (after the Benjamin touchdown). They score, we're up three and now they're kicking that field goal to tie as opposed to kicking it to take the lead.
"It's a tough loss. But we have to live with it. It is not for the faint of heart. You have to make the plays, starting with me."
An NFL locker room will never let one player or one play to take the blame for a loss. Teammates understood Olsen's frustration, but they wouldn't allow him to carry such a burden.
"Greg is a great teammate," Benjamin said. "He's one of those guys that prides himself on making plays for the team. But it wasn't all on Greg."
Olsen has made so many clutch catches for the Panthers over the years, and despite the bitter disappointment in Oakland, there is no one his quarterback trusts more when he needs a play.
"Greg is a pro's pro," Newton said after the defeat. "When the game is on the line, I think we all know who I am going to go to."
View game action photos from Carolina's 35-32 loss to Oakland.