Tight end Greg Olsen and fellow Walter Payton NFL Man of the Year finalists Eli Manning and Larry Fitzgerald participated in a fan forum with Commissioner Roger Goodell in Houston.
All of the questions were asked by fans, and Olsen spoke passionately about the value of playing a variety of youth sports when a high school football coach asked about advice the players might have for young athletes.
Olsen and Fitzgerald also joined "Good Morning Football" to discuss being finalists for the prestigious award, which will be presented Saturday night at NFL Honors.
Former Walter Payton Man of the Year recipient Thomas Davis is also making the rounds in Houston in advance of Super Bowl LI.
Davis and Texans linebacker Brian Cushing joined VISA, BBVA Compass and the Texas Jump$tart Coalition at a financial litercay event to teach local high students about the importance of having sound money management skills.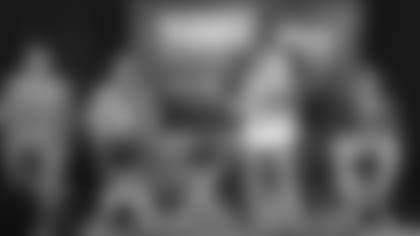 Davis also spoke about his NFL journey and shared words of encouragement at the NFL Women's Summit.
Head coach Ron Rivera has also been making appearances in Houston. He discussed the Panthers' offseason Thursday on the set of "NFL Insiders" on ESPN and later conducted several radio interviews. Rivera also attended the Women's Summit.