He hasn't signed yet. Only 16 of this year's 32 first-round picks have, so it's nothing to worry about. It'll get done. 
I've actually wondered the same as your second question, so I asked around and I'll try to explain as simply as possible. 
From rookie minicamp through a seven-week Rookie Football Development program that coincides with veteran offseason workouts, Moore, the rest of his draft class and the undrafted guys get room, board and a small stipend. The only difference between Moore and his peers is those with contracts have gotten their signing bonuses. He eventually will. And because base salaries don't kick in until Week 1 of the regular season, there's no reason for backpay. 
---
Because they spent so much of last offseason in the training room after surgery, their strength wasn't where it needed to be once camp kicked off. But with no limitations this offseason, they're right where they want to be. That's why coaches are so optimistic both will have healthier and more productive seasons. 
---
As I wrote last week, it's silly to put too much weight into the on-field stuff right now. They're mostly just working on installation and retention. Jobs aren't being won or lost. So while I understand the hunger for any type of football information, we can't truly start judging how guys look until the pads come on in training camp. 
---
Realistically, you'd hope he'll battle for playing time on a roster with three tight ends: Thomas, Greg Olsen, Chris Manhertz. But I think we can all agree expectations for Thomas' rookie year should be tempered after he totaled 28 catches in just over one season playing major college football at Indiana. 
---
Email from Sean: *So I chuckled the other week at the German fan saying he was the biggest fan in Germany, and then again last week as Peter doubled down on that. We met German fans a few years ago at our tailgate. Frank and Suse travel to the Vault each year and also claim to be the biggest fans in Germany. The competition is fierce! Here's a picture I took of them at our tailgate. Great to hear from our international fans. *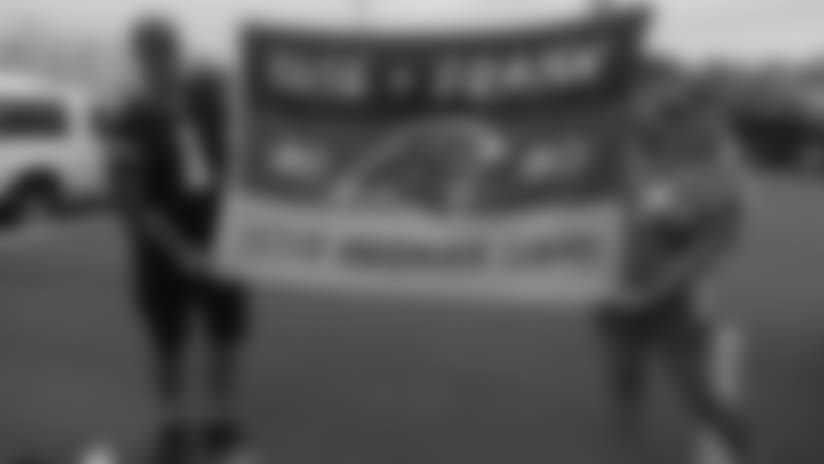 Elsewhere around the globe … 
---
I've always followed the cardinal rule of be friendly but not friends with folks I've covered. But for the hypothetical purposes of this question I'll go with, in no particular order: 
–James Bradberry (he's quiet but appreciates dry humor and has a sneaky sarcastic side)
–Greg Olsen (I'd have a hard time getting a word in, but he's great to chat with on a variety of topics)  
–Julius Peppers (I feel like this would be more like wine or whiskey instead of beer)
–Trai Turner (like Bradberry, Turner can be quiet, but he has a big personality)
–Luke Kuechly (mostly because I have a hard time even picture him drinking)
---
If Jackson doesn't win a starting job by the start of the season, I imagine worst case scenario is he'll be in a rotation with Kevon Seymour and/or Ross Cockrell. 
You're right about Rashaan Gaulden. He has a longer climb. The former Tennessee nickel back has a lot to learn, and right now, they're comfortable with Da'Norris Searcy next to Mike Adams at safety. But Gaulden's a third-round pick. You have to hope he'll show enough in camp and the preseason to at least earn a jersey on game days. 
---
I can't speak for the locker room, but I imagine his messages are welcome. 
The thing about Smith is he's not just a talker. He's out there doing things, getting things done – or at least trying to. Cameras haven't yet caught him in the community, but yes, you can expect an uptick in that type of coverage on our platforms. 
---
Email from Greg: Bill, I really enjoy your coverage, particularly your radio spots. Question: What are the chances the Panthers re-sign Funchess before the season and at what price would a deal get done? I imagine the spread is quite wide between him and the team. I would think his demands are high considering this year's free agent money for WRs in the league and he may want to test it. My guess is this was a big factor in drafting DJ Moore. Any rumblings of a deal being discussed?
It'll be interesting to see what happens with guys like Funchess and Daryl Williams over the next few months. I could see the team trying to work out deals, but it's too early to predict if they'll happen. My guess is conversations will happen once training camp rolls around. 
Also, I don't think Funchess' contract situation had anything to do with drafting Moore. 
On to the lightning round … 
---
Not going out on much of a limb here: Dustin Johnson.
---
Nah. There had been some very preliminary discussions a while back, but with the huge organizational change this offseason, the idea was tabled for this summer. 
---
C'mon, that was sooooo last month. 
---
Website submission from Susan in Inman, SC: *Are any minicamp sessions open to the public? *
Sorry, the only open practices are during training camp. 
---
Top 10 people named Bill Voth.