Email from Victor: *Hey there Bill, die-hard Native American fan from NM. Is there a chance we will see sack master Julius Peppers back next season? It would be, for lack of a better word, awesome to see him when the family and I drive out for training camp next summer. *
I usually cringe at "is there a chance?" questions but this is a good one, and it's not like I'm going out on a long limb with my answer. Sure, there's a chance. I'd argue there's a good chance, too. 
To be clear, Peppers won't touch questions about the subject and he probably won't decide until the offseason. But he's really enjoyed being back in Carolina, and he's obviously shown he can still play at a high level. 
I think he'll be back for at least one more year. Unless the Panthers win the Super Bowl to give him a storybook sendoff. 
---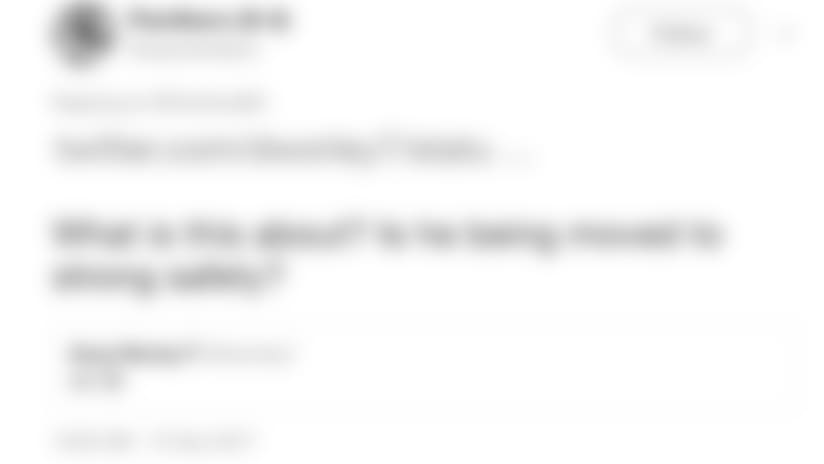 ](https://twitter.com/caymiendavis/status/940643764623863808)
I don't know what that was about, but I do know he's not moving to strong safety.
---
Bradberry hasn't had the breakout season many hoped/expected, but he's still the team's top corner. And "yet" is the key word in your question. 
Against the Vikings, Worley played 66 snaps while Kevon Seymour was in for nine, his fewest in nearly two months. It's too early in the week to predict Worley has regained his full-time role with his recent "step up" in play, but things may be trending that way. 
If the rotation continues, it's because coaches still feel the competition is worth it and they're still hoping to see Worley play with more physicality.
---
Email from Andrew: Hey Bill, with the Panthers' recent on-the-field success and the potential playoff contender storylines, there hasn't been much discussion of what the Panthers could do in the long term with the front office. Is Marty Hurney guaranteed the GM position if the Panthers make a playoff run or will the team consider other candidates in the offseason regardless of the season's final outcome?
Nothing is guaranteed in the NFL.  
I know many have believed since the day Hurney was re-introduced that there's a plan in place to eventually remove his interim label. But as much as those folks want to believe it and convince others they're right, that wasn't and isn't the case. I can also tell you there hasn't been much focus on the topic inside the building. There are too many other moving parts during a season, which is why Hurney was called on in the first place.  
I won't bother listing his good moves or go into detail about the positive changes I've seen in him in his second go-around because most of Hurney's detractors will never forget his mistakes of the past. But maybe, just maybe, it's not the craziest thing to hope we can all agree he's done a solid job navigating the in-season waters.  
Does that mean he deserves another full-time shot? Does he even want one? That's between Hurney and Jerry Richardson. But if Hurney does end up staying either as general manager or in another capacity, it will be after the Panthers sift through other candidates. And that won't happen until after the season.  
---
Only the touchback rule when a guy short of the goal line loses a ball that goes out of bounds in the end zone is worse. 
But the Panthers have to be digging the catch rule this season because it's given them two big breaks. Remember, the Jets had seemingly taken a 23-18 lead until replay overturned a touchdown by tight end Austin Seferian-Jenkins. 
By the letter of the law, both calls were correct. But it's a silly rule, and if the Panthers ever end up on the other side of it, I'd bet you'd be happy to agree with me. 
---
I spent the day avoiding the thought of turning another year older but also appreciating I have one more year before I hit a big round number. 
---
Email from Moses: Why do people hate on Cam so much? I know his stats aren't top 5 and fancy, but there are QBs who have wayyy better WR corps than us and he still gets the job done.
Something I've tried to argue for years is there are plenty of things Newton can be criticized for. There are also plenty of things he's criticized for that he shouldn't be. So why can't we just ding him for what's valid? I know, I know. That's pie-in-the-sky type stuff.  
The answer to your question includes so many layers that a little post like this could never fully cover, and way too much of it is about off-the-field stuff. But I don't think it's unfair to question how he's played this season because he's been subpar as a passer.  
Now, Newton's playing with a shoulder that won't feel right until he has a full offseason to recover from surgery, and I know many of you will defend him to the death by bringing up his weapons and/or the play-caller. But we've seen him miss open targets too often, and there are some raw numbers that make it impossible to say he's having a great year.  
Newton has improved his accuracy from last season, jumping from 52.9 percent to 60 percent. But that still only puts him 28th among quarterbacks in completion percentage. He's also 29th in interceptions per pass (3.0), and his 81.9 passer rating lands him at No. 26 between Eli Manning and Mitch Trubisky.
All that said, Newton is the quarterback of a 9-4 team, and his legs still make him one of the league's most feared weapons. Andrew Sendejo and the Vikings saw that up close just a few days ago.  
Newton isn't perfect. He's never going to be a Brady or Rodgers and he'll always be a lightning rod. In my opinion, it's a lot more fun if you understand and accept his flaws, roll your eyes at those who pick at inconsequential stuff and try to enjoy the most dynamic athlete in Charlotte sports history.  
---
Even though that was in 2015 and not last year, that's a perfect example of something Newton got dinged for that was completely blown out of proportion. He'll never do it, but replacing whatever is his next "brimless hat" with one of those styrofoam cheeseheads would be tremendous trolling.