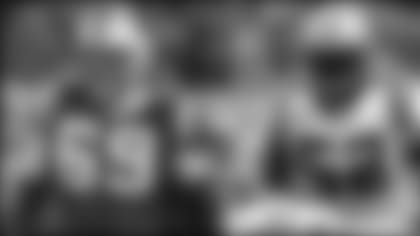 Carolina's two All-Pros: Left tackle Jordan Gross and linebacker Jon Beason. (PHOTOS: GETTY IMAGES)**
CHARLOTTE -- A 12-4 season typically yields abushel of individual honors, two more of which landed at Bank ofAmerica Stadium as left tackle Jordan Gross and middle linebacker JonBeason were named to the All-Pro team, each for the first time in hiscareer.
The Panthers also had three players selected to thesecond team -- running back DeAngelo Williams, wide receiver SteveSmith and defensive end Julius Peppers.
Gross and Beason becomethe Panthers' first All-Pro selections since defensive end JuliusPeppers made the team in 2006. They are also the first Panthers to earnfirst-team All-Pro status in the same campaign since 2004, when widereceiver Muhsin Muhammad and defensive end Julius Peppers each wereselected.
"When you have success you get individual honors, andboth of those guys are very deserving," head coach John Fox said."They've both had excellent years for us. I think it's a great honor."
ForGross, the selection caps a year that began with a switch back to lefttackle, where he started 15 games in 2006 and all 16 contests in 2004.He and left guard Travelle Wharton -- who had been the team's lefttackle in 2007 -- immediately meshed in their new slots, helping theline blast open holes for the league's third-best running game.
Behindthe blocking of Gross and the offensive line, Carolina ran for 30touchdowns -- smashing the previous franchise single-season standard of17, set in 2005. The line proved equally adept at pass protection,conceding just 20 sacks all year, which also set a franchise record.
Beason,in just his second year in the league, established himself as one ofthe Panthers' leaders, earning team-captain status before the regularseason began and justifying it with a 159-tackle campaign that cementedhis place as the ringleader of Carolina's defense. He also shared theteam lead with three interceptions -- two of which came in the fourthquarter of four-point wins, over Arizona and Green Bay.
Gross andBeason were last month selected to the Pro Bowl, which was also thefirst such honor for each. Gross will start the annual all-star game inHonolulu next month, while Beason is a reserve behind San Francisco'sPatrick Willis.