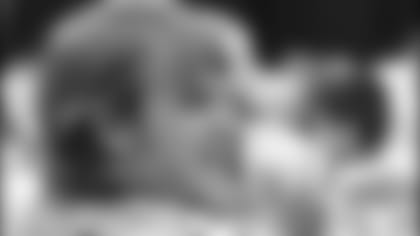 Jordan Gross' sixth year in the NFL was his best yet, as he earned All-Pro and Pro Bowl honors.  PHOTO: ANDREW MASON / PANTHERS.COM
CHARLOTTE -- All-Pro Jordan Gross will remain with the only professional team he's ever known.
Thursday, the Panthers' offensive tackle signed a six-year contract extension, securing his future with the organization that brought him into the NFL as a first-round pick in 2003.  Gross had been set to become an unrestricted free agent on Feb. 27 prior to signing the contract.
"Jordan's one of the leaders of our offensive line and our team," General Manager Marty Hurney said. "He's an excellent fit.  He's a perfect fit for our team and our organization.  He's one of the top left tackles in the league.  Our offensive line was one of the strong points of our team last year and Jordan was a very big part of that."
Gross had moved between right and left tackles in his first five seasons before settling in on the left side last season as the Panthers opened the year with a line that saw its starting complement completely reshuffled from the previous year.  He flourished there, helping the offensive line set franchise records for fewest sacks allowed (20) and most rushing yards (2,437).
With Gross helping lead the way, the Panthers twice set all-time single-game rushing records last season, amassing 264 yards against Detroit in Week 11 and then smashing that standard with a 299-yard Monday Night Football masterpiece against Tampa Bay 22 days later.
He also proved dominant in pass protection as 2008 progressed, helping the line permit less than one sack per game (0.85) in the final 13 contests of the regular season.
The versatility Gross displayed in his first five years also remained an asset as he moved to right tackle in the final regular-season game of 2008 after right tackle Jeff Otah suffered a toe injury.  Gross filled in on the right side, Frank Omiyale stepped in at left tackle, and the Panthers drove to a game-winning, division-clinching John Kasay field goal in the final moments of a 33-31 win at New Orleans.
Remarkably durable, Gross has missed just one game in his six-season career -- the Week 5 contest against the Kansas City Chiefs last Oct. 5.  Until that week, he had played in 84 consecutive regular-season games -- 91 including playoffs -- to open his career.
That injury, however, was a momentarily frightening one, as he fell to the ground early in the Week 4 win over Atlanta when linebacker Michael Boley's knee inadvertently hit Gross in the helmet, causing a concussion that sent a sold-out home crowd into worried silence.
"I think I was the lucky one, because I didn't see any of the stuff that happened," Gross recalled. "I was sleeping through all that.
"Whenever you see someone down and not moving, you're thinking, 'neck injury.'  That's what everybody said.  So it's a spooky deal.  I'm by no means Superman, but I have a pretty good history of being in every play, so everybody knew that something was going on for me to stay down."
He rose and was able to ride off the field and salute the fans.  Two weeks later, he was back in the lineup, and picked up where he left off en route to his most decorated season to date, ending with a Pro Bowl slot that was the first for a Panthers offensive lineman since Mike Wahle three years earlier.
"He's a great addition to the Pro Bowl," said running back DeAngelo Williams in December. "He'll be a great addition for years to come."
And if Gross can return to Honolulu, he'll do it in black, silver and Panther blue.