In honor of Mother's Day, read about Greg Olsen's mom, Jerricho Cotchery's wife and a how a son fell in love with the Panthers because of his mom's love for Carolina.
Susan Olsen: Greg Olsen's #1 Fan
Greg Olsen's mom Susan has watched a lot of sports -- and not just because her three sons were talented athletes from a young age. She was a gym teacher up in New Jersey, who Greg described as "the center core of our family since we were little kids."
Now that the NFL veteran has three kids of his own, you'll still see Susan supporting her family in any way she can. She'll be packing goody bags for families at Levine Children's Hospital, wearing her Olsen jersey around town or even interview No. 88 on the red carpet at NFL Honors.
"Still to this day," Greg said, "she is one of our biggest fans."
Greg is one of Sue's biggest fans as well. He started "Receptions for Research" after her courageous battle with breast cancer and together in 2017 they raised $100,000 for cancer research.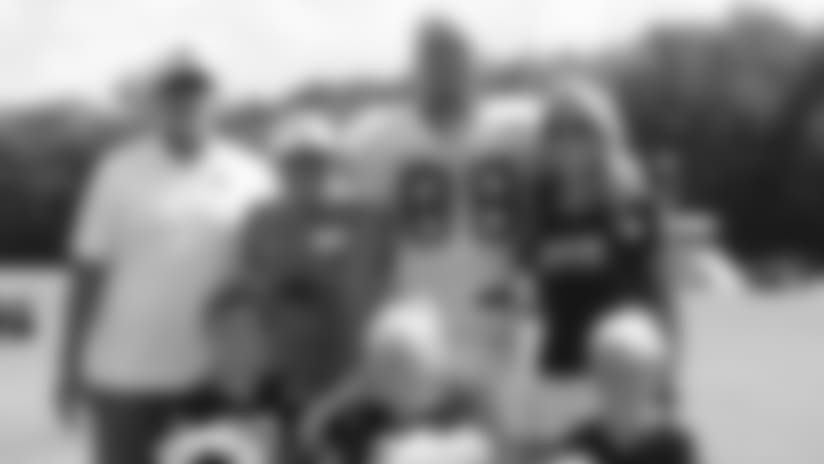 Mercedes Cotchery: The anchor of the family
Former Panthers wide receiver and current assistant coach Jerricho Cotchery, earned the nickname "Clutchery" during his playing time for being someone you could count on in high-pressure situations.
Who is the most clutch person to Jerricho? His wife of 14 years, Mercedes.
"She gives everything," Jerricho said.
Mercedes' outstanding work ethic didn't just come after they adopted their five children. It was always there. Being an NFL wife, Mercedes had demonstrated her resiliency to handle tough situations through the constant changes of cities and life on the road. All of this prepared Mercedes to lead her family through their next challenge.
"My wife brought up adoption, it was foreign in my own mind," Jerricho said.
Mercedes and Jerricho are the proud parents of Jacey, Nicholas, Joshua, Journey and Nile.
"Every single day I learn something new about the people they're becoming, about myself, and I see the world a little brighter," Mercedes wrote on her blog.
Now that their kids are a little older, it has been odd to see their dad without pads and a helmet.
"Daddy coaches now…" Jerricho reminds them. And his current job is still pretty cool.
"They are extremely excited I know the players," he said laughing.
Loretta To: Superfan and SuperMom
Christopher Harling is Panthers fan because of his mom Loretta.
Loretta moved from Hong Kong to Charlotte in the late 80's. She was just learning to understand American football and was elated when her new adopted city was granted an NFL team in 1995.
Christopher was born in 1996 and Loretta made sure she raised a Panthers fan.
"As I got older, we would try to attend the Fan Fest, my first one being in 2006," he said. "Each year as I got closer to the players and coaches, the more I felt like part of the team."
As Christopher's love for the Panthers grew, so did Loretta's.
She is now a vivacious member of the Roaring Riot and keeps up to date on any and all things Panthers from social media.
"She is the definition of a strong independent woman," Christopher said of his mom.