Hey Bryan, how good do you believe Greg Hardy can be? When he came out of college he dropped to us in the sixth round because of injury, and I am sure some teams are regretting that. – Richard in Fayetteville, N.C.
Hardy recently stated that his personal goal for the 2013 season is to record 50 sacks, a number that would more than double the NFL single-season record of 22.5 by Michael Strahan. I'm usually not one to question Mr. Hardy, but I do believe he might have a tough time reaching 50.
That being said, the sky is the limit.
Hardy was a beast – when healthy – at Mississippi. He recorded 10 sacks as a sophomore, including three against Alabama, despite starting just four games. He totaled 13.5 sacks over his final two seasons despite missing the final three games each season with injuries.
He has gotten better each year with the Panthers, from a rookie that showed flashes to a second-year player who led the team in quarterback hurries to a third-year player who recorded 11 sacks. In his fourth year, Hardy has a chance to truly put it all together. Again, 50 sacks is a bit ambitious, but who's to say he isn't capable of doubling his career total of 18?
Has any team ever had rookies of the year three years in a row and if not, who would be a candidate to make this possible for the Panthers? – Tony in Shelby, N.C.
When linebacker Luke Kuechly was named Defensive Rookie of the Year by the Associated Press in February, the Panthers became the fourth team to have winners in back-to-back years. The previous season, quarterback Cam Newton was Offensive Rookie of the Year.
No team has ever had winners for three consecutive seasons. The Detroit Lions have the most impressive run, with players capturing the inaugural award on both offense and defense in 1967 and then winning the offensive honor again in 1968. The Green Bay Packers had a winner in 1971 and '72, the Chicago Bears doubled up in 2000 and '01, and the Atlanta Falcons claimed co-defensive winners in 1980.
It won't be easy for the Panthers to become the first team to have winners in three consecutive seasons. Linebackers and running backs have historically dominated the award and the Panthers drafted one of each, but fifth-round linebacker A.J. Klein and sixth-round running back Kenjon Barner are projected for complimentary roles.
Carolina's top two picks were defensive tackles, a position that has claimed just one of the last 18 awards. Eye-catching stats can be hard to come by at defensive tackle, but Star Lotulelei's reputation that will have him on the map from the start, and Kawann Short could get on the radar if he were to rack up some sacks.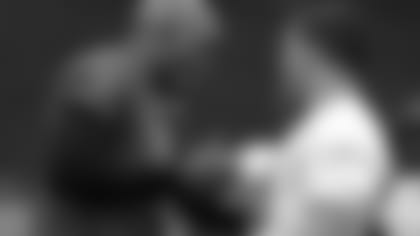 Which season for the Panthers that you have covered is your favorite? – Avery in Rochester, N.H.
It's a small sample size, as I've spent just three seasons working for the team, but it would have to be 2011.
My first season was a rough one by any standard, a forgettable 2-14 year when the offense struggled to score. Last year's team had the best record of my time, going 7-9, but more was expected. Those expectations rose from the fun ride of 2011.
No one truly knew what to expect from Newton in his rookie season, but when the lights came on, so did Newton, topping 400 passing yards in his first two games. He went on to produce a record-setting season, and the Panthers – despite some heartbreaking losses along the way – always kept it entertaining while improving to 6-10.
Although 2010 was my first year covering the team fulltime, I covered the Panthers quite often as a newspaper reporter. Obviously, the experience of covering the Panthers in Super Bowl XXXVIII was amazing, though the inaugural team's seven-win effort and the NFC Championship Game run the following season have to be right up there as well.
Are there going be open practices during the first week of July? – Robert in Los Angeles
There will be neither open nor closed practices. The offseason training program ended June 13 and represented the final team activities until training camp begins in late July.
Bryan, what in the world do I do now that the Panthers are off for six weeks? – Greg in Tega Cay, S.C.
I understand Tega Cay features scenic waterfront locales and a beautiful golf course. Also, Carowinds isn't far down the road.
In between, though, be sure to check in at Panthers.com. The on-the-field activities may be on hiatus, but there are still stories to be told as the countdown to camp begins in earnest.
---
ROSTER UPDATE: The Panthers have added wide receiver Dale Moss to the 90-man roster and waived/injured wide receiver R.J. Webb. Moss, who spent time on the Tampa Bay and Chicago practice squads as a rookie last season, had 61 catches for 949 yards and six touchdowns in his one season of college football at South Dakota State. Moss played on the Jackrabbits' basketball team for four seasons.