CHARLOTTE – It's hard to win in the NFL when you don't score a touchdown.
It's also hard to win in the NFL when you give up a dreaded special teams touchdown.
"That's what is special about special teams," Falcons punt returner Kenjon Barner said after Sunday's game at Bank of American Stadium. "Momentum changers."
Barner, the former Panthers running back, burned his former team with a 78-yard punt return touchdown late in the first quarter.
It gave Atlanta a 10-0 lead and the Falcons never looked back, eventually winning 29-3.
In his initial assessment, head coach Ron Rivera's indicated the Panthers undone by "out-kicking the coverage."
Punter Michael Palardy boomed a 60-yard punt, and when Barner got his hands on the ball there was a good seven yards of separation between he and Carolina gunner DeAndrew White.
"He kicked the crap out of the ball," Rivera said of Palardy's punt. "When you spread your coverage team that much, that thinly, all he really needed to do was get one seam and that's what happened."
Despite all that, White was racing down the field and felt he was in good position to level Barner. But Barner allowed the ball to sail over his head and he was forced to spin back for it. That threw off White, whose whiff allowed Barner to start making his way down the middle of the field with a full head of steam.
"If he would have caught it straight up then that's a hit," White said. "But since he spin up out of it, I missed the tackle."
Barner picked up a key block on linebacker Andre Smith and neither Rashaan Gaulden nor Alex Armah could get a hand on the speedy returner, who split through them both.
Running back Jordan Scarlett was barely able to get a hand on Barner before he was off to the races with only the punter to beat.
"We had an understanding that he was going to return it to the one side. He broke the tackle and took it the other way. That caught everybody in a bad position," Scarlett explained.
"Kind of out-kicked the coverage. They brought some pressure and a lot of people got held up in there trying to protect. They were able to set up a wall near their sideline and one thing led to another."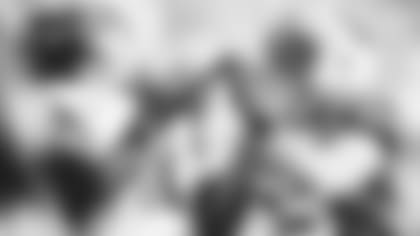 The two star players were matched up in memorable play back in 2015, and the Panthers weren't on the right side of it.
Falcons wide receiver Julio Jones leapt over the Carolina linebacker for a sensational 70-yard touchdown in that game a few years ago, and Kuechly once again found himself defending Jones deep down the field this Sunday.
On third-and-16 late in the second quarter, the Falcons went with a five wide receiver look with Jones lined up tight on the right side. Jones ran straight down seam and Kuechly ran with him, perhaps scheming up that matchup for their go-to receiver.
"Sometimes you get in situations where – obviously you don't want to be on a guy like him way down the field, but I was. I was in the right spot," Kuechly said. "When the ball is thrown in your area and you're on the guy, you got to make a play on the ball. It's pretty straightforward."
Added Rivera: "Maybe I could have called something different to put Luke in a better position."
Kuechly was right there as Ryan's pass dropped into Jones' hands for a 48-yard completion. It couldn't have been placed any better.
"My approach on that play was to play his hands," Kuechly explained. "As his hands came up I tried to put my hand in there to deflect the ball. Great throw, great catch. But looking back on it, I need to make the adjustment for the ball and get my head back so I can see the ball. I have to make that play."
Even if Kuechly had managed to break up that pass, the Falcons' drive would have continued as edge rusher Mario Addison was penalized for roughing the passer. Not that that makes Kuechly feel any better.
And cornerback James Bradberry took some responsibility as well for not communicating a call to safety Eric Reid, who wasn't able to get to Jones in time to affect the play.
The Falcons took a 20-0 lead with a 2-yard touchdown run on the next play.
"I could've helped (Luke) out," Bradberry said. "I could've gave a 'push' call , could've got the safety over to help Luke out. So, I'll take some blame for that, but that's just the coverage. Sometimes the coverage can't beat everything. Sometimes they get you."