CHARLOTTE – Spoiler alert: Like pretty much every general manager in the history of drafts, Marty Hurney probably won't bat 1.000 this week. But a little self-awareness could go a long way in upping his success rate.
During Hurney's first go-around as the Panthers' top draft-day decision-maker, hits (see: Cam Newton, Luke Kuechly, Ryan Kalil, Josh Norman) were often tainted by misses (see: Jimmy Clausen, Armanti Edwards). But after watching the bulk of the previous five drafts from home, Hurney 2.0 vows to avoid a temptation that bit him in the past. He won't trade away future first-round picks as he did for flops like Jeff Otah and Everette Brown.
"I can tell you right now, you can consider next year's first safe. I don't think we're going to be trading next year's first," a smiling Hurney said Tuesday at his pre-draft press conference.
"We'll be getting calls, so if you can just tweet that out, maybe it'll help the people on the phones."
When he didn't trade the picks away, choosing the right first-rounders was rarely a problem for Hurney 1.0. Starting with some guy named Julius Peppers in 2002, eight of Hurney's 10 first-round picks turned into Pro Bowlers. The outliers: Chris Gamble – Carolina's career interceptions leader – and Otah, who started 25 games before a knee injury sent his career spiraling.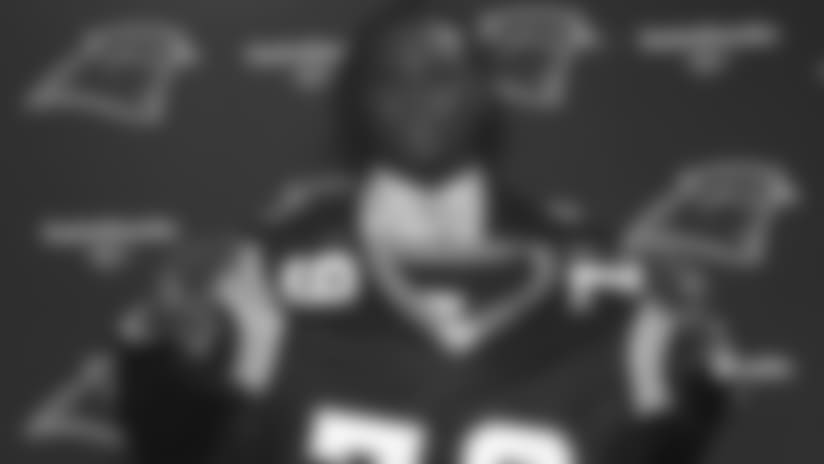 What really hurt Hurney were his calls in Round Two. There you'll find names like Eric Shelton, Dwayne Jarrett and Keary Colbert. Again, Hurney's aware. He knows he needs to have a big Friday, especially in a draft he feels is loaded with second- and even third-round talent. 
So how is Hurney going to improve his hit rate after the first round? He says his evaluation process hasn't changed much. The difference, he believes, will show in his decision-making during the draft. 
"Probably patience is the key word, being patient," Hurney said. "We let free agency come to us. Starting Thursday night, I think we are extremely well prepared, we've covered all scenarios and now you just let the board come to you. You don't fall in love with a player, you don't overreact.
"You've covered all your bases, now don't get caught up in the moment. Just be patient and let the board come to you."
In other words, don't reach. In Hurney's first iteration, that may have been easier said than done. This time around, he hopes history will be his guide.
"When you step back and you look at some of the things you've done, you look at what you did and what you can do better. You also look at what you did well and want to try to improve on that," Hurney said. 
"This is the fun part of the job. This is what gets your juices flowing. I think it did help sitting back and watching."