SANTA CLARA – To measure up on the road against the 6-0 San Francisco 49ers, the lone unbeaten in the NFC, the Panthers knew they needed their best effort of the season.
It was anything but, and when it was all over, the visitors were left with a 51-13 loss.
"We played our worst. They played their best," safety Tre Boston said. "That's what you get."
As the score indicates, a lot went wrong for Carolina against a team that sure looked like the class of the NFC.
But both sides of the ball experienced a similar problem – they were thrown completely off balance.
Let's start with the defense.
"When they are running the ball effectively you have to deal with everything they have," head coach Ron Rivera said. "That's what we got today."
San Francisco racked up 232 rushing yards – Tevin Coleman had 105 yards on just 11 carries – and it was their success running the ball on early downs that allowed head coach Kyle Shanahan to manipulate the defense.
"It opens up the playbook big-time. It allows them to be creative," linebacker Luke Kuechly said. "When you have an offense like that that gets big chunks on first down, it lets them run the ball, throw the ball, run screens, take shots. Even if they don't gain a yard second down, it's around third-and-4 and that's a good place to be. It's important to get a stop on first down to dictate the game instead of having the game dictated to you."
The 49ers dictated all right, using misdirection over and over to frustrate Carolina.
Tight end Greg Kittle and the San Francisco backs were effective in the screen game, which worked perfectly against the Panthers' aggressiveness.
"We were very aggressive up front – that's the nature of our front four. We coach our guys to go," head coach Ron Rivera said. "They got us early on with a couple screens. It's something that we have to see and feel better."
Wide receiver Deebo Samuel's 20-yard touchdown run in the third quarter, which came after Carolina made it 27-13, was another prime example of misdirection dicing up the Panthers. The 49ers had the defense flowing to the left before Samuel took a speed sweep to the right and was in the clear on his way to the end zone.
"We give them respect for how they schemed it up," defensive tackle Gerald McCoy said. "But we could have prevented a whole lot of stuff."
Whereas the 49ers had everything at their disposal due to their ability to stay in manageable down-and-distance, it felt like the polar opposite for Carolina. Penalties and inconsistent execution on early downs made it a constant uphill battle against a defense that pressures the passer as well as any group in the league.
"We did a lot to ourselves early to get into second-and-10s and second-and-15s. It's just tough to be successful like that," left guard Greg Van Roten said. "There's only so many things you can do when you're behind the sticks."
That led to a lot of sacks (seven total) and a lot of incompletions (quarterback Kyle Allen was 19-of-37).
San Francisco built a 21-3 lead early in the second quarter as things quickly unraveled. As a result, star running back Christian McCaffrey – the engine of Carolina's offense – had just five carries for 21 yards by halftime.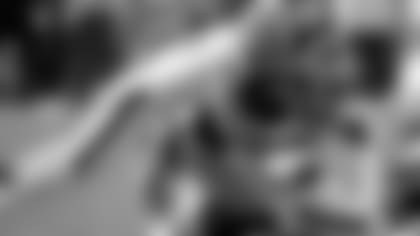 "Not ideal to fall behind against arguably the best defense in the league," tight end Greg Olsen said. "Played right into their hands.
"We knew. We had a plan to stay on schedule and not put ourselves in third-and-long… We just weren't efficient enough on offense."
Carolina had won four straight games before running into an undefeated 49ers team that Rivera called a "buzz saw."
But the wins and losses, now matter how lopsided, all count the same in this league. The Panthers may have lost their balance in San Francisco, but they've got to find their footing again quickly.
This is a 4-3 football team with a lot left in front of it.
"We still have confidence in ourselves. It's a loss," McCoy said. "We didn't want to lose that way, but it's one loss. We have nine games left. We're not going, 'Oh, we not as good as we thought.' We just got beat today. They showed up, we didn't. It's the NFL, that's how it works. We just lost very badly and it's going to hurt, but after the film (review) is over we're moving on."