CHARLOTTE -- There's a phrase NFL teams use that works perfectly for the situation the Panthers find themselves in after losing their Pro Bowl tight end for at least the next month: No one is coming to save us.
As Ed Dickson repeatedly said Sunday night, "There's no replacing a guy like ." But after he underwent surgery on his broken right foot Monday morning, the Panthers now have a rather large hole to patch.
Well, Dickson and wideout should get more opportunities. And here are three other options.
This is the door former general manager Dave Gettleman chose in early 2015. When defensive end Charles Johnson went down with a hamstring injury early, Gettleman sent the Bears a 2016 sixth-round draft pick for Jared Allen.
So maybe there's a veteran tight end out there with some tread left on his tires? Because of tampering rules, I can't mention specific names or teams, and this is only an idea in my head, but perhaps there's a guy who could help who's currently playing for a West Coast team that has a very talented second-year tight end?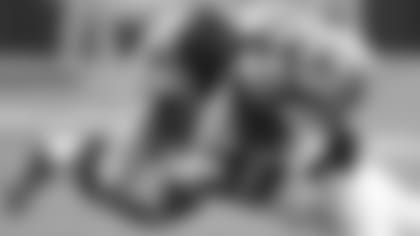 OK, let's talk about the guy folks are endlessly asking about on Twitter.
Gary Barnidge, who was drafted by interim general manager Marty Hurney in 2008, is still available and I'd be surprised Carolina didn't at least reach out to him. But signing Barnidge comes with potential pitfalls. We don't know what kind of shape the 31-year-old is in or how much he would want contract-wise.
I'd also expect the Panthers to try out some guys Tuesday. The list of street free agents doesn't include many recognizable names, but a few may interest Carolina.
3) An answer on the practice squad?
Nine picks after the Panthers used their sixth-round draft choice on Alex Armah this spring, the Vikings took former Virginia Tech tight end Bucky Hodges. Now they're each on Carolina's practice squad.
Because Hodges has had less than a week to learn a new system, he's a while away from a potential call-up. Armah is obviously closer, even though he's not really a tight end.
With Olsen out, the Panthers could run more 21 personnel (two running backs, one tight end, two wideouts), making way for guys like Armah and Chris Manhertz to act as lead blockers.