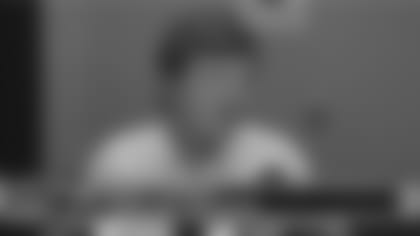 ](http://www.panthers.com/media-vault/videos/hurney-meets-the-press/470c90fe-5f8d-48fb-9d84-34f5fe29cf2c)
Click above to watch general manager Marty Hurney answer questions on Thursday.
---
CHARLOTTE – Even without a first-round pick, the Panthers' draft preparation isn't any different now than it is any other year.
The scouts, personnel executives and coaches have criss-crossed the country, attending Pro Days and filing their evaluations.  The draft board is in place, with names prioritized by position.  The difference is that with no selections scheduled until late in the second round, it's more difficult to discern who might be available when Carolina finally goes on the clock.
"It's a little more challenging in a sense of trying to figure out which players might be there at 59 (as opposed to) having a first-round pick," general manager Marty Hurney said. "(But) it's really the same process."
And with only nine days left before the draft, it's just about done.
"It's that time where you've gone over and over the draft board," Hurney said. "We have vertically stacked the board at each position, and now we are in the process of going across the board as far as how players stack up overall in each around.
"The last week is just fine-tuning everything."
At the same time, the phone lines stay open to anything that may come down – which was the case last year, when the team's draft plan detoured after taking Jonathan Stewart with the No. 13 pick.
That turn left the Panthers without a first-rounder this year, but with Jeff Otah, who immediately stepped into the starting lineup at right tackle and helped blast open holes for the most productive running game in franchise annals.
At the moment the Panthers turned in the draft card with Stewart's name on it, pairing him with a first-round offensive tackle seemed preposterous.  Within an hour, the possibility had come to pass.
"After we picked Jonathan, we started that process," Hurney said.
It pays to go into the draft with a plan – but not one etched in cement.
"Last year at this time, I don't think anybody would have guessed that we could have a second pick in the first round, so we were ready for that," Hurney said. "You go through the process, arrange the board from top to bottom and know the players that you like in certain spots and you're ready for everything, because I think the most important thing is to be open-minded, to be flexible."
If that means standing pat, moving up or accumulating more picks by trading down from the 59th spot, so be it.
"It's human nature when you've done the work that you want as many picks as you can get," Hurney said. "We also know anything can happen on draft day.  So you have to be prepared for everything.  But we were very glad to have Jeff Otah with the extra first-round pick last year – actually this year's first-round pick.
"We like the makeup of our team and we feel like with the picks we have, we can get players that can help us."
---
Read more of what Hurney had to say on Thursday.