GREEN BAY, Wisc. – Third-and-13 from the Green Bay 7-yard line.
Second-and-26 from the Green Bay 9-yard line.
Two moments – one late in the first half and the other on the first series of the third quarter – where Carolina's defense had Aaron Rodgers and the Packers pinned back right where they wanted them.
But they didn't manage to get off the field. And both those plays were major talking points after the 24-16 loss at Lambeau Field.
"Whenever you don't capitalize on that," cornerback Ross Cockrell said, "it's a crucial blow."
Now that third-and-13 was hugely controversial. With 4:21 on the clock before halftime, Rodgers was pressured by Bruce Irvin in the end zone. Gerald McCoy also converged on Rodgers making contact with what looked like a perfectly clean hit as the pass fell incomplete.
"I saw a great play," safety Eric Reid said, "and then I saw a really late flag."
McCoy was penalized for roughing the passer, allowing the Green Bay drive to continue.
"I was told that I put all my weight on him – I didn't roll off to the side or do whatever the rules say to do," McCoy said. "It's tough in this day and age. It's tough to deal with."
A 48-yard pass to tight end Jimmy Graham on third-and-6 spotted the ball deep in Carolina territory. First-and-goal at the 2-yard line eventually turned into third-and-goal from the 7, and that's when cornerback Donte Jackson was penalized for pass interference in the end zone with two seconds left.
The Packers decided to go for it from the 1-yard line, and McCoy enjoyed some redemption.
Running back Jamaal Williams took a handoff and was immediately stuffed by McCoy, who shot through the line practically untouched to make the stop three yards behind the line of scrimmage as time expired.
"I got a pre-snap read, so I knew I was going to jump the gap. Seeing a lot of things, playing a long time, I saw a little tip. That's why I jumped the count," McCoy said.
It kept the score at 14-10 and it provided a huge boost for Carolina as they entered the locker room.
But the McCoy penalty still loomed large. It took away a possession for the Panthers offense – one that more than likely would have started with strong field position.
"Well, it gave them an opportunity to continue the drive," head coach Ron Rivera said. "We were able to stop them and keep them from scoring, but we could have had them punt and gotten good field position. Ifs and whats, candy and nuts. So, it's disappointing."
That said, the second half started just as Rivera could have hoped. Vernon Butler recorded the first sack of the day on the first play and Green Bay was called for an illegal hands to the face penalty on the next snap.
That created second-and-26, and it was McCoy who was again involved.
"That one really frustrated me," McCoy said. "Had I not fell there it would have been a completely different result on that play."
McCoy won off the line and was bearing down on Rodgers until he slipped and fell on the slick surface. That gave the All-Pro quarterback time to survey the field and locate wideout Davante Adams, who had created separation against Jackson.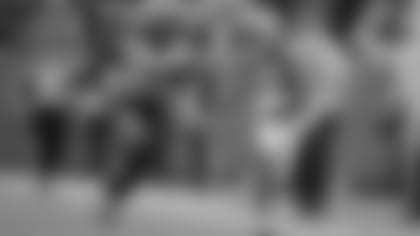 Rodgers and Adams connected for a 38-yard gain and running back Aaron Jones was into the end zone for his third score of the day three plays later.
"It was tough to start that way," McCoy said. "But that's Aaron Rodgers. That's what he does."
And just like that it was 21-10 with a major opportunity having slipped away.
"It's frustrating. That's another one of those situations where we should have gotten off the field," Reid said. "We had them in a position that you like to be in on defense. We just have to get off the field."
View photos from Week 10 as Carolina visits Green Bay.