CHARLOTTE – A lot has changed since the Panthers and Saints met in Week 3.
"It does feel like 100 years ago, thank goodness," head coach Ron Rivera said.
Carolina entered that matchup 2-0 and New Orleans arrived in Charlotte 0-2. But it was the Saints who took command of the game, earning a decisive 34-13 victory. Those 34 points are the most Carolina has allowed in a game all season.
"There are some things that they did that we didn't handle very well," Rivera said.
The Saints used that win as a springboard, rattling off eight consecutive victories before their impressive run came to an end Sunday in Los Angeles against the Rams. Now they'll look to put an end to Carolina's four-game win streak with first place in the NFC South on the line.
"It is one game at a time, but there is everything else that comes with it," Rivera said. "Let's be honest with it, that's all I'm going to do. When we get together on Wednesday and I do my introduction of our opponent, that's what I am going to talk about. I'm not going to hide from it. I'm going to tell them the truth. 'Guys, there is a lot riding on this.' We know this. At the end of the day, the team that plays the best is the team that will win."
With attention now turning to the Saints, offensive coordinator Mike Shula and defensive coordinator Steve Wilks also shared some initial thoughts on the showdown at the Superdome.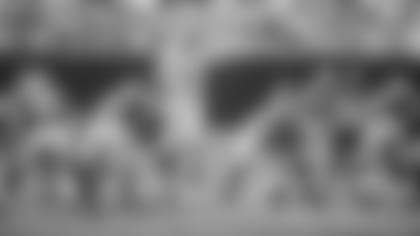 Shula stressed the importance of success on early downs, something Carolina struggled with in the first game against New Orleans and this past week versus the Jets.
"We have to be on point," Shula said, "and do a much better job just in general on first and second down."
The tape from Week 3 will be closely evaluated, but there are obvious differences for the Panthers offensively between then and now (as can be said for most teams). One of the more notable ones is quarterback Cam Newton's running, which the Panthers weren't yet comfortable unleashing in late September.
Shula was asked if that could be a difference-maker in the rematch.
"I think that could," Shula said. "His threat – teams have to account for that."
For Wilks and the Carolina defense, execution against the run must be better than it was in Week 3 when the Saints racked up 149 yards on the ground – the most the Panthers have allowed all season.
"When a team is able to run the ball on you and also incorporate play-action and drop-backs, you're exposing yourself to too much. We have to narrow things down," Wilks said. "We have to do a great job of making these guys one dimensional.
"They have dynamic players across the board, starting with their quarterback, as we all know."
View the top photos from Panthers vs. Saints by team photographer Melissa Melvin-Rodriguez.