SPARTANBURG, S.C. – Half of the 14 Panthers who watched Sunday's practice from the sideline were back on the field by Wednesday, and many of them are already making their presence felt.
Offensive linemen Nate Chandler and Garry Williams, along with running back Kenjon Barner and wide receiver Tavarres King, returned to action Wednesday. The previous day, following a day off for the players, defensive ends Greg Hardy and Wes Horton and cornerback Charles Godfrey returned.
All of them with the exception of Hardy are trying to establish their roles for the upcoming season. It's likely to be a decidedly different role for Chandler – moving from guard to tackle – and for Godfrey, moving from safety to cornerback.
Godfrey, in his second day back from sore legs, showed signs of reaching a level of comfort that head coach Ron Rivera wants to see.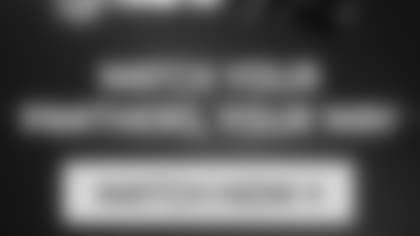 ](http://now.nfl.com?icampaign=rospanthersnflnowarticleembed200x150launch&cvosrc=ros.nflnow.launch_articleembed200x150)"Things are starting to slow down for him. He's starting to see things," Rivera said. "There are some things that are really starting to show up. His speed has really shown." Even so, the first real test for Godfrey and other recent returners will come Friday when the Panthers open the preseason against the Buffalo Bills.
Will the progress shown by Godfrey in practice translate to game day? Will Chandler perform at his new spot and will Williams be able to perform coming off an injury that sidelined him for all but one game last season? Will Barner show he's ready for an expanded role in the return game? Will King's strong training camp carry over to game play?
"Buffalo has already played in a game where they've gone full speed. For our guys, this will be our first shot, and simulating that in practice just isn't going to happen," Rivera said. "We'll get an opportunity with these preseason games to really get a feel for what we're capable of doing as an offense, defense and special teams."
Not everyone will get that shot Friday, though not everyone necessarily needs it. Rivera, for example, isn't overly concerned that veteran safety Roman Harper isn't practicing with a toe injury even though it's his first year with the Panthers.
"You'd love to have him out there working, but he's a veteran guy who knows what we're doing," Rivera said. "It's just a matter of time. Him melting into what we do should be fairly easy."
On the other hand, running back Jonathan Stewart is entering his seventh season with the Panthers, but Rivera does think it's important to get him on the field. Rivera believes that Stewart, who is yet to practice with a hamstring injury, will be able to play at some point in the preseason.
"Ideally, we'd love to be able to put him in a game and see where he is," Rivera said. "The one thing you don't want to do at the running back position is put a guy that hasn't gotten any real live stuff out there (in the regular season)."
The Panthers didn't really "go live" Wednesday, not wearing pads as their first game fast approaches.
"You can only do so much hitting and so much live stuff," Rivera said. "We've had a couple of good days with live action, but we have to have thoughts pointed to this game."