CHARLOTTE – Left tackle Michael Oher won't play Sunday at the Atlanta Falcons after being placed in the concussion protocol Friday.
Head coach Ron Rivera wasn't ready to say who would replace Oher, who had practiced all week, in the starting lineup.
"When I came in this morning, (head athletic trainer) Ryan Vermillion came to me and told me that Mike had come in and was complaining of symptoms," Rivera said. "So he sat him down and did whatever the first steps of the protocol are and contacted the doctors. He came back and told me he's in the protocol.
"There's no way you can pass the protocol in a day-and-a-half. He's got to go through the whole process."
Oher started every game for the Panthers at left tackle last season and signed a contract extension through 2019 this offseason. Donald Hawkins, a third-year player out of Texas, is listed as Oher's backup. Right tackle Mike Remmers could shift to the left side with his backup, Daryl Williams, filling his spot. Williams also saw some time at left tackle in the preseason.
Rivera said reserve guard Tyler Larsen would be active for the first time.
"We're going to talk about it. We practiced today, and we had a couple of guys taking reps on that left side," Rivera said. "The thing to decide is whether bringing one guy in is better than moving one guy and having to put another guy in? We'll see.
"Coming at the end of the week is the big deal because you've game-planned already. But the nice thing is that our young guys get a lot of reps. It's not like these guys haven't been working on things."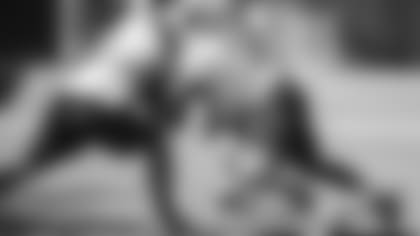 Defensive end Charles Johnson sat out practice Friday and is listed as questionable, but Rivera is hopeful the Georgia native will be able to play. Johnson had his quad tighten up on him late in Thursday's practice.
"I'm counting on him being there," Rivera said. "He had a good day today, worked on the side with the training staff just to be safe."
Linebacker A.J. Klein practiced for the first time this week, and Rivera expects him to play. Klein spent much of the week at his Wisconsin home in the wake of his father's death. Len Klein's funeral is set for Tuesday.
"It's good to have A.J. back," Rivera said. "He had a good day today, and he'll be ready to roll. He's a professional. The guy is a solid football player, a smart football player who is a part of what we do.
"His teammates have rallied around him. It's a tough situation, but he seems to be focusing in on things. It's probably a good change for him right now."
View photos from the Panthers' week of practice leading up to their game against Atlanta.