CHARLOTTE – It's Thursday morning prior to the Panthers' division-clinching 21-20 victory over the Atlanta Falcons. Offensive coordinator Mike Shula holds a meeting for the quarterbacks, wide receivers and tight ends.
The team meeting room is spacious, but with only a few position groups in attendance, the players cluster in the front few rows. Head coach Ron Rivera sits in the middle of the last row.
Shula begins promptly at 9 a.m.
"We have a lot to prove," he says. "Let's close this thing out in the passing game."
In Week 16 against the New Orleans Saints, Carolina found it difficult to move the ball for the majority of the game. They went 0-for-9 on third downs. But with 55 seconds left in the game and no timeouts, the Panthers drove 65 yards in 32 seconds as wide receiver Domenik Hixon hauled in the game-winning, 14-yard touchdown.
Still, the third-down difficulties have the coaches' and players' attention this week, and third downs are a primary focus in this 37-minute meeting.
(The Panthers convert 7-of-15 third downs against the Falcons.)
When Shula meets with the media, he typically speaks softly and slowly. He's very relaxed and takes his time when answering questions.
But in the offensive meeting, Shula dramatically accelerates his pace. At times, it's like he doesn't even stop for a breath.
A slide flashes on the projector screen outlining the third-down coverages the Falcons typically use by distance. It's broken down into four parts: 2-to-4 yards, 5-to-7, 8-to-10 and 11-plus.
Shula then begins some film study and highlights third down and red zone plays that have worked against Atlanta.
Clips of the Falcons defense against Buffalo, Washington, New England and San Francisco are shown.
"Be ready to make tough catches against pressure," Shula says as the clips play. "Strong hands."
Shula occasionally asks the room to answer questions based on the looks they see on screen.
He discusses a play that is in this week's game plan– one that was used with success in the first meeting against Atlanta. But this time, Shula is changing the formation the play will run out of.
"We don't want to show them the same thing."
There was a lot of talk in the preseason about simplifying the offensive terminology, but still, some of the plays include as many as 10 code words.
Shula calls up a red zone play that he may use again. He believes wide receiver Cam Newton's route will work as well as it did the last time, even though the ball didn't come his way.
"You were open on that," Shula says to LaFell. "Cam just decided to run that sucker in."
Shula looks at quarterback Cam Newton and talks with him about his progressions against a Falcons defense that consistently blitzes.
"Be quick with it Cam," Shula says.
Newton sits just in front of quarterbacks coach Ken Dorsey, who leans in with some advice throughout the meeting.
Shula then has a specific message for the room: ball security.
In the first game against Atlanta, cornerback Asante Samuel stripped the ball away from LaFell at the tail end of a 23-yard gain early in the fourth quarter. The ball took a fortuitous bounce right into the hands of LaFell.
"They are going to try to strip it," Shula says. "They'll hold you up, and somebody else will try."
"Got to protect the football."
(Shula was disappointed to be proven right. At the end of Carolina's longest play of the game – a 56-yard swing pass to running back Ryan Kalil – Falcons cornerback Robert Alford caught up with Williams and stripped the ball from behind. This time, the ball bounced into the hands of Atlanta cornerback Marcus Trufant.)
Toward the end of the meeting, Shula shows clips of successful passing plays against the Falcons' zone. The key to success on all of them is protection.
"There are big holes in the zone if we get these things picked up," he says.
(On what proved to be the game-winning touchdown in the third quarter, the Panthers exploited the Falcons' zone despite the fact they dropped eight into coverage. Newton had plenty of time to survey the field, and Greg Olsen found a soft spot in the coverage over the middle. Newton fired a laser to the tight end for a 7-yard score.)
---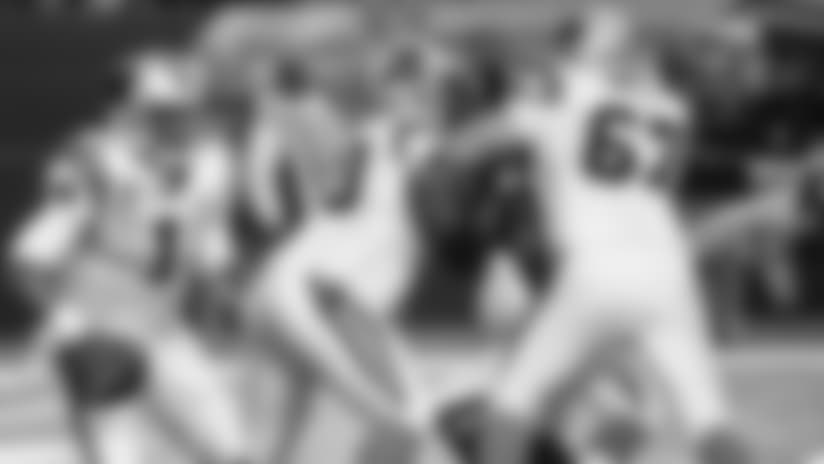 It's Friday morning prior to the regular season finale, and the Panthers' offensive line is getting ready for its position meeting.
This meeting room is a sight to behold. The rookies in the group are tasked with decorating the room for the holidays, and there are Christmas lights spread from wall to wall. There is also an elaborate coffee-making station in the back corner, complete with a wide variety of flavors to choose from.
The comforts of coffee and Christmas lights provide a stark contrast to the intense dialogue that takes place in this room.
Offensive line coach John Matsko – a man with 22 years of NFL coaching experience – sits in the back left corner of the room. Assistant offensive line coach Ray Brown is seated behind him.
With installation complete, this meeting is essentially a film review, and Matsko uses run plays from the Week 9 game against Atlanta exclusively.
"How did we do on power? Got to do better," Matsko says. "Have to sustain our blocks, men."
Each player on the unit gets critiqued. Matsko's assessments are blunt. He addresses hand placement, head placement and makes note of how effectively pullers adjusted to gap penetration.
Then he highlights center Ryan Kalil – a team captain who is selected to his fourth Pro Bowl later in the day.
On the first play, Kalil pancakes a Falcons defensive lineman.
"That's how we've got to play," Matsko says. "Just like that."
On the next play, Kalil reaches the second level but falls to the ground. He still manages to execute a block from his knees.
"That's want-to," Matsko says. "Blocking a guy on his knees. That's an All-Pro."
The attention shifts to right tackle Byron Bell next. A pile of players forms after a run up the middle, and Matsko highlights Bell, who arrives at the pile and drives a Falcon into the ground.
"We need this," Matsko says as he points to the screen. "Get away now!"
The linemen laugh. That's a play they thoroughly enjoy watching.
Matsko then asks Bell to grade a block by left tackle Ryan Kalil. It's an isolated pinch block on the edge.
"B?" Matsko replies. "That's an A. That's how you've got to play."
After some more film review, Matsko pauses and asks the players for their analysis of what they just watched.
"What did we see, Chris Scott?"
"What did we see, Travelle (Wharton)?"
"What did we see, Geoff (Hangartner)?"
Hangartner offers a quick response.
"Kalil does some stuff that amazes me," he says.
The room fills with laughter, and Hangartner gets ribbed for being so complimentary. But everyone in the room agrees, especially after what they have just seen on film.
Then Matsko asks Gross – a five-time team captain and the leader of this tight-knit offensive line – what he sees. His response sums up the meeting well.
"Effort shows up on film," Gross replies. "That's not technique. That's a choice."
Matsko nods and offers a final remark before dismissing the players.
"It's in here, men. It's in this room," Matsko says. "Doesn't matter what the scoreboard says, we have to play to our level every snap.
"We'll know on Monday. It's in here if you want it bad enough."