CHARLOTTE – It's the offseason, but Curtis Samuel is working five days a week at Bank of America Stadium.
Samuel arrives at 9 each morning for at least three hours of rehab on his surgically repaired left ankle, and each day he's greeted by the smiling face of assistant athletic trainer Kevin King, who is overseeing his recovery.
The routine varies somewhat, but it always consists of a warm-up, exercise with weights or cardio, balance activities and some work catching a football.
On this particular Tuesday, Samuel did some work in the pool.
While teammates and peers across the league are currently jet-setting to whichever destination they please, Samuel is tethered to the training room. A quick visit to Ohio State, his alma mater, had to be organized around his rehab schedule.
"The rest of these guys," King said, "whatever they want to do, they just go."
Not the case for the 2017 second-round pick. Not after the season-ending injury he suffered on Monday Night Football against the Dolphins in Week 10.
The Panthers don't have a timetable for Samuel, but he's working toward a return for training camp.
"This is a big injury. He had ligament (damage) and a broken bone," King said. "There are multiple parts to his ankle injury. He's working his way through the process."
---
Things were just beginning to click for Samuel.
He had a five catches for 45 yards on seven targets in the first half against Miami – all career highs.
Then came first-and-10 from the Dolphins' 28-yard line early in the third quarter. Samuel, lined up in the slot right, ran straight to the end zone. Quarterback Cam Newton targeted him with a throw that hit him right between the numbers. But Samuel bobbled it. Safety Reshad Jones dove in an attempt to corral the ball, and in doing so, rolled up on Samuel in the end zone.
The rookie tried to get up and walk it off. But he quickly went back down before trainers helped him to the locker room.
"I was actually getting into a groove," Samuel recalled after completing his rehab session Tuesday. "I felt like I had a good game going, and for that happen in that game when I was feeling so good and getting so comfortable… it hurt.
"Honestly, I didn't think it was that bad at first. I figured it was high ankle sprain. But then I found out I was going to be done for the season."
Samuel, who played 40 of 41 possible games in his three years at Ohio State, couldn't seem to shake the injury bug throughout his first NFL season. It was a hamstring injury in the summer, then a high ankle sprain early in the season. He missed Week 4 at New England with a back injury.
The Monday night game against Miami looked like a turning point. And it was, just not in the right direction.
"I was out there and then I had something, then I was out there and I had something else," said Samuel, who finished with 15 catches for 115 yards on the year. "The main thing for me was I just felt like I wasn't able to get in rhythm. There was always a setback."
Added King: "Seeing him starting to figure it out and contributing after the injuries early in the season, he had done a lot just to get back out there. To see all that work kind of pause, it was disappointing."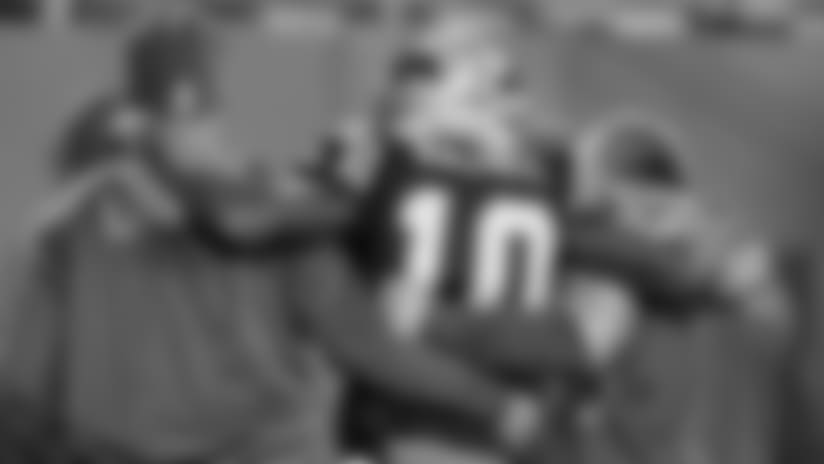 ---
After absorbing the initial shock that comes with a season-ending diagnosis, Samuel quickly moved on.
"I didn't let it break me down," he said. "Things happen for a reason. I had to get my mind right."
The 21-year-old Brooklyn native broke his other ankle in high school, and though this injury is more complex, he had an idea of what the road ahead would look like.
Samuel underwent surgery after being placed on injured reserve and was in a cast for several weeks. Then he transitioned to a protective boot with crutches. Now it's just the boot.
"That was exciting for me," Samuel said with a smile. "I was getting tired of those crutches.
"I'm looking forward to when I can go back out there and run."
It's a question that can't be answered quite yet.
"There is a period where we encourage things to heal, and we leave it at that," King explained. "It takes time for bone, for tissue to solidify and heal. After that, how is the range of motion? Can he go through the full range of motion without pain? Lastly, does he have strength to protect himself and change direction?"
For now, Samuel has to focus on the daily grind. As King says, you have to crawl before you walk before you run.
"I've had a chance to be around him and know him," King said. "I had confidence that he was going to be able to get through this. He has great support outside of here with his mother and sister (in Charlotte) with him. That helps.
"He's shown that he's compliant and committed to whatever it takes to get better. And he's still thinking about football and engaged with football. You see some individuals that have trauma like this and they're taken away from the game – they don't want to watch football, they don't want to talk about football. He's still very much engaged with the game."
Some may have forgotten about Samuel after he missed the final seven games of Carolina's season. That's the way it goes in this "next man up" business of professional football.
But he insists he won't be forgotten for long.
"My mindset is to prove what I can do, show people why I'm such a good player and show this team why they drafted me," Samuel said. "I'm excited to come back and really put on a show."
View photos of wide receiver Curtis Samuel as he works his way back from ankle surgery.