CHARLOTTE – After Steve Wilks became Carolina's defensive coordinator a few months ago, he decided to add something to the defense's meeting room.
As soon as the door opens, players are immediately greeted by a ball and a white line on the floor. Everyone slaps, punches or swipes the ball upon entering. It's all part of creating good habits.
The white line is a symbolic reminder.
"Just like out on that field," Wilks explains. "When you cross that line, it's time to focus in."
Wilks is known for his seemingly endless energy, and it's on full display as the defense meets on Saturday morning to review the Thursday night, 24-23 preseason victory at Jacksonville. Much like the scene at practice, there is no wasted time, no wasted words. The tempo is fast. Everything that comes out of Wilks' mouth is loud and punchy. He stands at the front of the room and quickly moves from one thought to the next.
"This defense is still under construction," Wilks says to begin the meeting. "And we have to keep building."
He then goes through a few slides to get things going.
The Formula: 1. Stop the run 2. Negative plays on first and second down 3. Create third-and-long.
Positives from the game:
- Effort and energy
- Run defense (longest rush was 14 yards on a QB scramble)
- We tackled well
- Third-down defense (created third-and-7-plus nine times)
- Sanchez INT
- Richards INT
Negatives from the game:
- Red zone defense *
*- Penalties (pre snap and post snap)
- Explosive passes
- Inconsistent with technique and leverage position
After those slides, it's time for some film review.
Wilks pulls up the first play of the game for the defense where Jaguars running back Chris Ivory picks up one yard up the middle.
"Hell of a job," Wilks says. "Great penetration, linebackers getting downhill. Violent hands. Nowhere to run. That's how you come out and set the tempo right there."
Wilks then highlights plays where linebacker David Mayo and rookie defensive end Bryan Cox do their jobs against the run. "Gap control," he says. "We have to pride ourselves on stopping the run. Great job."
The conversation moves to tackling, an area where the Panthers admittedly struggled in the previous week against the Titans.
"Last week we talked about our inconsistent tackling," Wilks says. "We bounced back this week. Look at this right here. This is a true picture of our defense right here."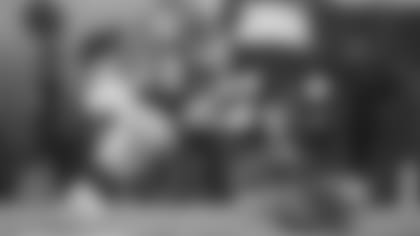 The play is second-and-11 late in the first quarter. Quarterback Chad Henne tosses a short pass to running Corey Grant, and linebacker Luke Kuechly and safety Kurt Coleman pursue and converge for 2-yard loss. The camera captures the excitement of Kuechly and defensive end Julius Peppers after the play.
"I love the swag," Wilks says. "Love the swag. Love the swag."
Next is a terrific open-field tackle by linebacker Shaq Thompson on fullback Tommy Bohanon to start the second half.
"That's how we make our living," Wilks says.
Wilks then examines the work done by linebacker Thomas Davis and cornerback Captain Munnerlyn on second-and-20 late in the second quarter. Henne is looking deep down the right side but is forced to dump it off to Ivory. Munnerlyn and Davis quickly combine for the stop after a 6-yard gain.
"Great job in coverage, great job up front," Wilks says.
Next is a look at each of Carolina's three sacks. First is defensive end Mario Addison forcing a three-and-out by beating rookie left tackle Cam Robinson and getting to Henne on Jacksonville's opening series.
"If they are going to try and single us up front, we are going to win over here every time," Wilks says. "If they going to single you Mario, you have to make them pay."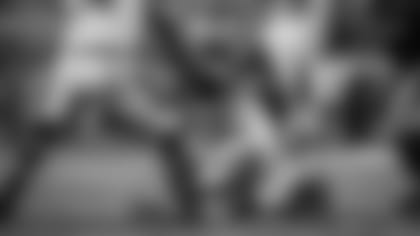 Cox gets home in the second quarter, and Wilks and defensive line coach Eric Washington point out ways in which the entire defense helped make it happen.
"We made him hold the ball; great position," Wilks says. "Relentless pursuit trying to get to the quarterback."
Washington, who is seated in the back of the room, then points out the work by defensive tackle Eric Crume finishing his outside rush and keeping Henne in the pocket.
"It's the little things right here Eric," Wilks adds.
The third and final sack of the night came courtesy of a blitzing Davis, and footage of the Pro Bowl linebacker cleanly beating Ivory's block speaks for itself.
"Teaching tape right here," Wilks says. "I see the linebackers doing this drill every other day. Look at that. Hell of a job TD. Nice swim. Everything that we teach."
Now comes time for a closer look at cornerback Zack Sanchez's interception in the third quarter.
"Takeaways, takeaways, takeaways," Wilks says.
Quarterback Blake Bortles tried to connect with wide receiver Allen Hurns over the middle, but safety Dezmen Southward executed a perfectly timed hit, and Sanchez was able to trap the loose ball against his body for the impressive interception.
But Wilks first spotlights the effort from Crume as the screen shows Sanchez getting up to return the interception.
"Watch Eric Crume right here," Wilks says. "Crume, watch yourself."
The room begins to fill with laughter as they watch the 330-pound defensive tackle charge down the field looking for someone to block.
"Big sexy!" Wilks says. "That's a helluva job. Look at him!"
More laughter. Then Wilks gathers everyone's attention.
"Listen to me right here Dez. That's a great play, and I can tell you've sort of got the wind knocked out of you a little bit. But if it all possible, we've got to get up and block who? That intended receiver. (Hurns) is the guy that made the tackle."
Then Wilks tells a story from his time with the Chargers to illustrate his point.
"We're in the playoffs. Quentin Jammer gets an interception, but we miss one block. He could have scored to put us up two scores," Wilks says. "Next play, (our offense) throws the ball to Vincent Jackson – the ball bounces off his foot and it's intercepted…
"When we have an opportunity to get in the end zone, we have to get in the end zone. Block that intended receiver."
Wilks moves into a discussion about things the defense needs to improve on. He starts with penalties, then talks about cleaning up run fits and detailing technique.
Then he addresses cornerback Daryl Worley, who was the man in coverage against several deep targets.
Wilks pulls up first-and-10 late in the second quarter. Wide receiver Keelan Cole got by Worley deep down the sideline but dropped the pass.
"We talk about competing against ourselves every day," Wilks says to Worley. "You are in great position right here. But we have to force the receiver back inside. Don't allow him to get in your blind spot."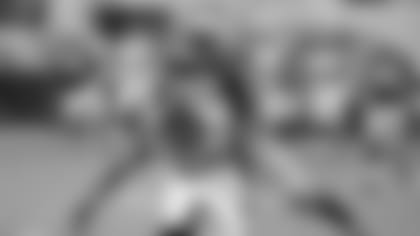 Next is the touchdown pass given up early in the fourth quarter, where wide receiver Shane Wynn was able to gain separation against rookie cornerback Cole Luke for a 4-yard score in the corner of the end zone on third down.
"You have to have outside leverage position," Wilks tells the rookie. "It's not what they're doing, it's what we're not doing."
Before wrapping up the meeting, Wilks talks about Carolina's expectations on defense.
"We are built to win on defense. I believe that, and know you guys do as well," Wilks says. "We talk about setting the standard, here it is right here."
Wilks points to the slide on the big screen behind him.
"Seventeen points or less, under 100 yards rushing, three takeaways," Wilks says. "That's the standard for this defense every time we play. That's what we're trying to accomplish. Any questions?"
The players exit the room, and the ball takes a beating along the way.
---
Stay connected! Sign up for the free Panthers Pulse e-mail newsletter for daily updates and news about the team, sent straight to your inbox. Subscribe Here