Jeff Morrow, national scouting director for the Panthers, has been in the business of evaluating collegiate players for more than two decades.
He also knows that even in what may seem a cold, calculating process to outsiders, a personal touch can go a real long way.
In offering interesting insight into how the Panthers go about their business these days, Morrow also said the organization believes in certain philosophies when it comes to gathering information on draft prospects – and that those apply all the time and everywhere, including at the recently concluded NFL Scouting Combine in Indianapolis.
Morrow says the best way to get to know prospects is through one-on-one casual conversation, as opposed to hard-core interrogation about football or anything else. But that wasn't always the approach for the Panthers – or any other NFL team, for that matter – at the Combine.
Morrow, who is entering his 19th season with the Panthers, remembers when times were a whole lot different. These days, the Panthers use their allotted individual time with players at the Combine for a quick football IQ check and that's about it.
"In reality, that's the best way," Morrow said. "Because what we've done over the years at the Combine is change our approach. It used to be a kid would come in and it would be like he was under interrogation – because you've got 15 minutes and it was like, boom, boom, boom! So we got away from that and now we're strictly football there.
"The kid sits with a position coach and we have film up there, and we see if the guy is comfortable seeing his tape and explaining what needs to be done. We've streamlined it so it's a lot better and it's not like a police interrogation."
"Getting to know a draft prospect is not unlike attempting to get to know anyone else, Morrow said. To get honest answers and to obtain a general feel for the player and the person it often comes down to a scout putting himself in the right place at the right time and asking the right questions.
"Going back to whether it's the Combine or the Senior Bowl, it's much nicer if you can make it more casual," Morrow said. "You bump into him and you're like, 'Hey, how are you doing?' That way the kid's guard hopefully is down and you see the kid how he really is."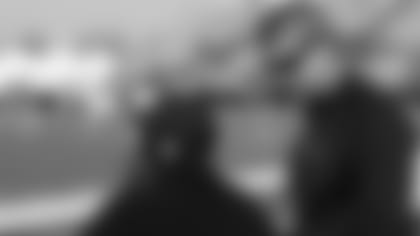 Ryan Cowden, Carolina's assistant director of college scouting, said the process of casually getting to know draft prospects actually begins before the Combine. Sometimes, it begins long before the Combine – although this year, with the Panthers playing in the Super Bowl, it might have been stunted a little bit in some cases (a tradeoff the Carolina staff will take every year, of course).
The scouts continued operating pretty much business as usual, but this year they didn't have the coaches and General Manager Dave Gettleman around quite as much during other stages of the evaluation process, putting more emphasis on the scouts to do a thorough job and to get the rest of the staff up to speed by the time the Combine hit.
"The all-star games with the Senior Bowl, the East-West, the NFLPA out in Los Angeles, that's really our first time to be hands-on with the guys," Cowden said. "So a major portion of it is on-the-field evaluation, going to practices, seeing them in the drills, being live and up-close with them. But the other part of that is you're basically spending the week with these kids, from interviews to watching them interact. It could be as simple as they're waiting to interview with another team and you've already interviewed him, but you're just sitting out in a lobby with him, getting to know him. Not every time that you run into him is it a hard-core interview; sometimes, it's just casual conversation.
"Especially if it's an area scout and it's a player in his area, he's cultivating the beginning of a relationship with that player that will last through these months (leading up to the draft) and can really come into play even if a guy isn't drafted and you go after him as a free agent. Forging that relationship with him really begins at the all-star games."
And it carries over to the Combine.
Of course, as with most everything else in life, the Combine has changed dramatically over the years. It used to be that not only were the workouts not televised by NFL Network (mainly because there was no NFL Network), but the workouts were closed to the media as well. Times in the 40-yard dash that routinely are posted in real time by NFL.com now were closely guarded secrets back in the mid-1990s.
Reporters were forced to hang out for hours on end in the lobbies of the hotel where team officials stayed, hoping to grab the coaches and/or general managers of the teams they covered as they passed through. The same held true for certain prospects they knew, or at least suspected, that the team they covered were interested in or perhaps players from local colleges that they were attempting to keep tabs on.
There were no formal media sessions for prospects, nor for most coaches and/or GMs and scouts unless individual teams or other NFL contacts arranged to set them up separately.
Nor were there clearly set rules for teams to meet with prospects. Morrow remembers those times well, but not with much fondness.
"Well, in the old days, it used to be you'd take 'em upstairs, you'd hide 'em, you'd take 'em out the back door. You'd keep 'em an hour and a half," Morrow said. "Now it's all regulated to where it's the same for everybody. You get them in 15-minute increments. Then they blow the horn. That's the system, which is good.
"That's why we streamline it now with just football stuff. Let the coach get an idea for what this guy knows or doesn't know football-wise – with his stuff, looking at film of what he did in college. We want to see if he can regurgitate what his college coaches taught him and expand on it and all that."
Morrow added that he believes that approach is refreshing for many prospects, especially ones likely to get asked the same questions again and again about specific incidents in college that teams might consider red flags.
There is a time and place to ask about those things – plus other ways to fully investigate them, Morrow said.
"Oh, yeah, especially if they've got some baggage," he said. "This way, you're not just hammering a guy. We might ask a guy to explain what occurred here, in a certain incident, if possible. But we don't dwell on it. We'll have plenty of time to figure that out when we go in March to the school itself for a Pro Day."
---
Take a look back at current Panthers players in action at the NFL Scouting Combine.