Panthers area scout Robert Haines measures a prospect at UCONN Pro Day in 2013.
CHAPEL HILL, N.C. -- It was precisely 9:30 a.m. when 14 athletes harboring dreams of making it to the NFL began marching, one-by-one, toward Panthers area scout Robert Haines in the weight room of the Kenan Football Center at the University of North Carolina.
On this day – last Tuesday, to be precise – Haines was designated with the task of measuring the exact height of each participant in the UNC Pro Day.
The weight room was packed with scouts, media and well-wishers from the UNC athletic department. More were on their way and would arrive shortly, joining the party once it moved outdoors to the nearby Navy Practice Field.
The mood for most of the NFL prospects was business-like, almost grim. One exception appeared to be Marquise Williams, a quarterback who instead kept smiling and working the roomful of scouts like he was a business major lining up future job interviews with the heads of Fortune 500 companies – which wasn't too far from the truth.
When a NFL scout from another team shouted out a player's name, the prospect headed over to Haines to have his height measured. Then Haines shouted out the height, down to the last decimal (Williams, for instance, was "6.017"), and sent him to another scout, who weighed each prospect and shouted out that number.
It is very important stuff, Haines explained.
"Most of these guys weren't at the (NFL Scouting) Combine (in February), so this is the first time we get measurements on them and 40 times and shuttles and all that. So that's a big thing," Haines said. "Are they staying in shape? Are they completely gassed out here? For all of these guys, who knows what they've been doing since their last game? So it's good just to touch base with them and make sure they're still into it, that they're still chasing the dream of playing in the NFL."
NFL teams these days host their own private workouts, where they invite prospects of their own choosing to work out for them prior to the April college draft. But Haines said that doesn't mean the college pro days have lost all their importance, even though some now see them more as a chance to help individual colleges like North Carolina promote their programs.
"We're real big on private workouts," Haines said. "But our coaches and scouts do a great job of going out to pro days, too. This week I know they've been all over the country."
For the players involved, probably more so for a crop like the one at UNC Pro Day, it's a huge moment in what they hope will be a process that lands them jobs in the NFL.
Of the 14 prospects in attendance last Tuesday, only one – offensive lineman Landon Turner – is projected as a sure draft pick. And he's projected to go in the middle rounds, likely the fourth round or later.
The rest – including one player whose senior class graduated two years ago and another who finished his playing career at Eastern Kentucky after transferring from UNC – were just hoping to show the scouts something that might have escaped them through months, maybe years, of watching them on film. And then maybe, just maybe, they'll get invited to a NFL camp as an undrafted rookie free agent.
Dozens of scouts from every NFL team were in attendance. They took turns measuring and putting all the prospects through the paces.
After getting measured and weighed, they then were tested in the vertical jump and the standing long jump. Then most of them headed to the bench press to see how many repetitions they could pump out, cheering each other louder as they went.
When the weight room portion of the spectacle was complete, they all paraded out to the practice field to be timed in the 40-yard dash, pro-agility drills, shuttle drills and, finally, in individual position drills.
Most eyes on this day appeared to be on Turner and Williams. By the time they performed individual drills, there was a pretty stout crowd of scouts, position coaches, media, university personnel and well-wishers that included recent UNC teammates and family members looking on.
Turner said he was coming off a strained hamstring that he tweaked while running a 40-yard dash, but that he thought he did well. Despite being a four-year starter and being named first-team All-America as a guard for the Tar Heels, he said he knows he still needs to prove to NFL teams that he can move well enough to play effectively at the next level at his size (6-4, 327 pounds).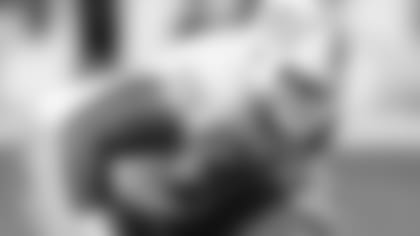 "I hadn't been through position drills in a while and they kind of put me through the ringer a little bit, so I can always work on conditioning," Turner said. "That's going to be a big focus for me now, especially heading into an NFL camp.
"I want to show that I can move in the body that I'm in, and that I can follow directions. It's really simple. There's not much more to it than that. Mainly, I just want to show I can move around and how athletic I can be at my weight."
Williams threw the ball well and impressed Haines both with that and the way he interacted with his former North Carolina teammates.
"You can see him encouraging guys a little bit when he had to," Haines said. "That's a really good thing to see.
"That's another thing you get out of these pro days. You just get to see how they interact. You get to see who the (jerks) are and which guys obviously are great teammates. It's like with the linebacker, (Jeff) Schoettmer. You heard everybody cheering for him whenever he did a drill well. That's something to pay attention to."
Schoettmer was another participant who hoped he made a solid impression. It appeared he did, too, and afterward the Dallas native said he already has been invited to attend a private workout with the Cowboys and that the Atlanta Falcons have told him they will be in touch.
"Some scouts said they liked the way I moved out there," Schoettmer said. "A lot of this gets hyped up, but they fall back to a lot of what you did on tape throughout your career. So this is really just a numbers day. Because I believe a lot of guys, regardless of what their numbers are, if they're good football players they're just good football players."
That's exactly what Haines said is most important to remember.
"Well, you've got to be careful because when you get surprised out here, you always still have to go back to the fall tape. That's who the player is," Haines said. "So you've got to be careful that you don't get too up or down on a guy based on one fast speed in a 40.
"You can take a day like today to tie up some loose ends, but you don't really want to make any rash decisions this time of year, based mostly off something like this. Hopefully you're just clarifying little things."