CHARLOTTE – There's a scene in the second "Austin Powers" movie when Austin tries to make sense of his latest mission, which includes traveling back to 1969 even though he was frozen in 1967. 
It was all very confusing: 
That's how I feel when trying to make sense of the 644 words that make up the NFL's catch rule. Same with too many folks who watch and those who play and played – like Jerricho Cotchery, who was a wideout for 12 years before becoming Carolina's assistant receivers coach. 
"I think we're definitely at a point where it's less clear," he said Thursday. "You can explain and say this is what the rule is, but what your eyes are actually seeing goes counter to that. It's becoming so much of a discussion that the rule doesn't even make sense anymore." 
The league's latest catch controversy came last weekend at the end of the most important game in the AFC this season. Pittsburgh looked like it took a late lead over New England until replay reversed a touchdown by tight end Jesse James. 
"I'm sure it sucks for the Steelers, but he caught it going to the ground and he didn't possess the ball," Panthers tight end Greg Olsen said. "That's the way the rule's written.
"Extending the ball as a runner and extending the ball as you're falling to the ground are two different things. He was never established as a runner."
As far as the letter of the law, Olsen's right. But that's his interpretation. 
This was Cotchery's: "Technically, he had it in his possession already, and now he's going up, and he's crossing the line, so the play is done." 
And here was wideout Damiere Byrd, who benefited from a cheeky part of the rule in Week 15: "I thought (James) caught it with outstretched arms. He brought it in, knee touched, and then he extended it over the goal line. So I thought once you cross the goal line, everything's over. Say a running back's running the ball, (Jonathan Stewart) jumps over the line and once it crosses the line, it's over. So it's a little weird."
Sure, but when a running back takes a handoff, he has possession. The problem with the catch rule is what constitutes possession is often murky and inconsistent.
"They've tried to define it where it's cut and dry as much as they possibly can. Then we live with that, one way or another," offensive coordinator Mike Shula said. "There's always going to be gray area."
"I try not to live in gray areas," Olsen said. "If you're going to the ground, everyone knows going to the ground as you catch the ball, you must retain possession continuously throughout the catch and to the ground. I think it's fairly easy to see what that means with your eyes. Whether you like it or not is a different discussion."
That last line is the most sensible point of all. Whether it was infamous calls that took touchdowns away from Calvin Johnson and Dez Bryant, or a couple of breaks that went the Panthers' way in games against the Jets and Vikings this season, by and large, the rule is being interpreted correctly. 
That doesn't mean it's a good rule.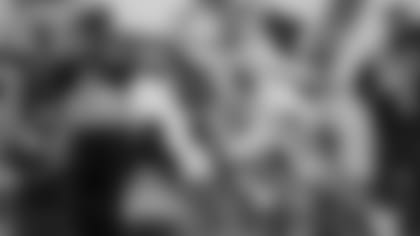 ](http://jetswire.usatoday.com/2017/11/26/watch-jets-te-austin-seferian-jenkins-robbed-of-another-score/)
"It's kind of like beauty. It's just in the eye of the beholder. I've never seen a person from the opposite team and they're on the receiving end of a questionable catch – 'Oh, that's not a catch.' But if it's their team, 'Oh, that's a catch!' It's whatever you want it to be," quarterback Cam Newton said before adding, "I really would like the NFL to just make it a more clear-cut description. … I believe that's something the competition (committee) will have their hands full this offseason trying to change."
"I have no issue with the catch rule," said head coach Ron Rivera, who's on a sub-committee of the competition committee. "The rule is in place for specific things, and one of the things is that if you're going to the ground, you have to come up with the ball clean.
"Hopefully it never happens to us." 
It did, sort of. It wasn't in the end zone like the examples above, but it was on the biggest stage of all. 
On the first play of the Panthers' second drive of Super Bowl 50, Cotchery bobbled a pass that could have picked up 20-plus yards. It was called incomplete on the field and, according to referee Clete Blakeman, there wasn't indisputable evidence to overturn the call. Two plays later, a strip-sack-score by outside linebacker Von Miller gave the Broncos an early lead. 
Nearly two years later, Panthers fans – and Cotchery – aren't completely over that pivotal moment. 
"I knew I had possessed it when I hit the ground, but to show that I had already possessed it, I rolled over, and as I was rolling over, the ball came loose," Cotchery recalled. "But I grabbed the ball back before it hit the ground. So I had possession when I hit the ground – that's the rule. You have to have possession when you hit the ground. They thought I didn't have possession when I hit the ground because when I rolled over, they saw the ball move.
"The rule is what it is. God is in control of all that stuff, so I'm willing to accept it all. But at the end of the day, I knew what had happened. I knew that I had caught it at that point in time."
To me, all of this should be so much simpler. I thought end zone catches by the Jets' Austin Seferian-Jenkins and Minnesota's Adam Thielen against the Panthers this season shouldn't have been overturned even if the rule says they should have been. They got two feet inbounds, and very slight bobbles shouldn't discount that. But I'll also admit my interpretation could cause more confusion. 
"I think what that rules allow is no gray area," Olsen said. "If it's not that way, what, you catch it for one second? Then what are the rules?
"I just don't know what the alternative would be. You have to present a better answer. Maybe there is a better answer, and if there is, great."
I don't have a better solution for the Seferian-Jenkins and Thielen situations, but Cotchery has an idea for the touchdowns taken away from James, Johnson and Bryant. 
"When we talk about football moves, we're only talking about the feet. But we disconnect the hands and everything else from it. It's only a part of our body that we're talking about a football move – just your legs," he said. "So he caught the ball in Pittsburgh, made a football move with his body to stretch the ball across the line. But that's not a football move to stretch the ball across the line according to the rule. The football move has to do with your legs; it has nothing to do with the rest of your body. That's the problem. You've only got half of your body as part of a football move."
In all likelihood, the catch rule will never be as clear as we'd like it to be. And for one group at least, that's cool. 
"I don't like when they catch the ball at all," cornerback Daryl Worley said, "so hopefully it stays undefined."