CHARLOTTE – The Panthers offense didn't do nearly enough in Sunday's 17-3 loss at the Chicago Bears.
But in some ways perhaps the offense did too much – or at least tried to.
"Today we asked as coaches, 'Are we asking too much, too soon?'" head coach Ron Rivera said.
Rivera's comment specifically was pointed at trying to establish a role for rookie wide receiver Curtis Samuel, but the answer was much the same when Rivera was asked Monday whether the offense as a whole might be doing too much schematically.
"With the number of new guys and young guys we have, yes," Rivera said.
The Panthers weren't opposed to taking a simple approach on offense Sunday in a matchup where the Chicago offense wasn't likely to pile up yardage, but the Bears put up points early thanks to their defense and put the Panthers in a tough spot.
On the heels of consecutive games in which the Panthers' simple but traditionally successful power running game was stymied, Carolina wanted to reestablish it in what figured to be a low-scoring game. While the Panthers found some success running between the tackles, they couldn't keep pounding away in part because of what Rivera called "game flow."
In simplest terms, Carolina couldn't keep running at a certain point after the Bears scored a pair of defensive touchdowns to force the Panthers to play catch-up – never easy against a potentially dominant defense.
"We're still trying to run the football, and at times depending on how the flow is, we can bring Jonathan (Stewart) in and try to be a physical running team," Rivera said. "In the second quarter we went with bigger packages, and we ran the ball effectively. We came out in the third quarter and did the same thing, but unfortunately we didn't punch it into the end zone and then you've got to spread it out a little bit more."
The run game stumbled again early Sunday, with running backs mustering just five yards on five attempts in the first quarter. But the Panthers finally got something going in the second quarter, and the next three drives totaled 50 rushing yards on 12 attempts by the backs – a small but promising step forward after the group had netted 34 yards on 39 attempts over the previous nine quarters.
However, when Carolina began showing signs of life in the run game, the Panthers trailed 7-0. When Carolina got the ball back after three drives produced some rushing yardage but not enough points, the Panthers trailed 17-3 with 4:58 left in the third quarter.
"A lot of it is dictated by the flow of the game," Rivera said. "A few more three-wide-receiver sets - that makes it tough to be a physical team."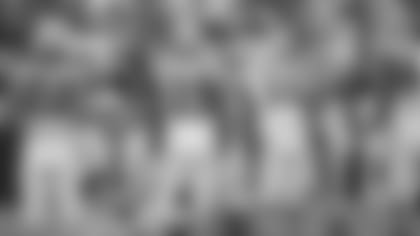 Having to ask Amini Silatolu to line up at tackle and guard when left tackle Matt Kalil and later right guard Trai Turner went down with injuries didn't help, nor did the early departure of center Ryan Kalil (neck) after he returned to action for the first time since Week 2.
Rivera noted that Kalil and tight end Greg Olsen – on injured reserve since a Week 2 injury – would be stabilizing factors for an offense trying to incorporate new pieces like Samuel and Christian McCaffrey. Their absence, however, has been felt both because the new pieces don't have them to lean on and because they must be replaced by new pieces as well.
Olsen won't be eligible to play until Week 12 and Kalil's status is up in the air. So, after taking another punch against the Bears the question becomes how – schematically and in spirit – the Panthers will counterpunch against the Buccaneers and beyond.
"It depends on how we as a football team react to what has gone on," Rivera said. "It's the old saying, 'Everybody has a plan until you get hit in the mouth.' Well, we got hit in the mouth yesterday – whether it was by our own doing or by them.
"We have to find out who we are."
View the top photos from Panthers at Bears by team photographer Melissa Melvin-Rodriguez.