CHARLOTTE – "Everything we do starts up front."
Defensive coordinator Steve Wilks said those words earlier this week, and he's been saying them all year.
The Carolina defensive line, a group loaded with talent that posted an NFC-best 50 sacks, could be a true difference maker in the upcoming Wild Card playoff against the New Orleans Saints.
"It is going to start up front," defensive end Julius Peppers said, "and we accept that challenge."
This Saints offense thrives off its running game, which has been well documented. Veteran running back Mark Ingram (1,124 rush yards and 12 rush TDs) and rookie Alvin Kamara (728 rush yards and 8 rush TDs) have been the best 1-2 punch in the NFL this season.
The Panthers, who finished the regular season as the league's third-best rush defense, struggled in both meetings with New Orleans. In Week 3, the Saints ran for 149 yards, and ten weeks later they ran for 148. Those two games represent the most rushing yards allowed by Carolina all year.
"We take pride in being good at stopping the run," linebacker Thomas Davis said. "If you look at those two games, we flat out didn't get it done. We had some misfits and they had some really long runs against us. It's uncharacteristic of this defense. This weekend should be a much better showing for our defense."
If that's to be the case, the front four has to be consistently disruptive. To get to Ingram and Kamara, you've first got to get through an offensive line that is ranked No. 2 in run blocking according to Football Outsiders.
The Saints also boast the lowest percentage of runs where the back is tackled at or behind the line of scrimmage (just 15% per Football Outsiders).
"We have to be gap sound, assignment sound and try to get off the ball get some penetration to get to (the backs)," defensive tackle Star Lotulelei said. "It's tough, but that's what we have to do to slow down their running game."
Ingram and Kamara are most dangerous when they can hit the hole with speed. That's when they're ability to break tackles and/or make defenders miss creates explosive plays. Hence the need for penetration up front.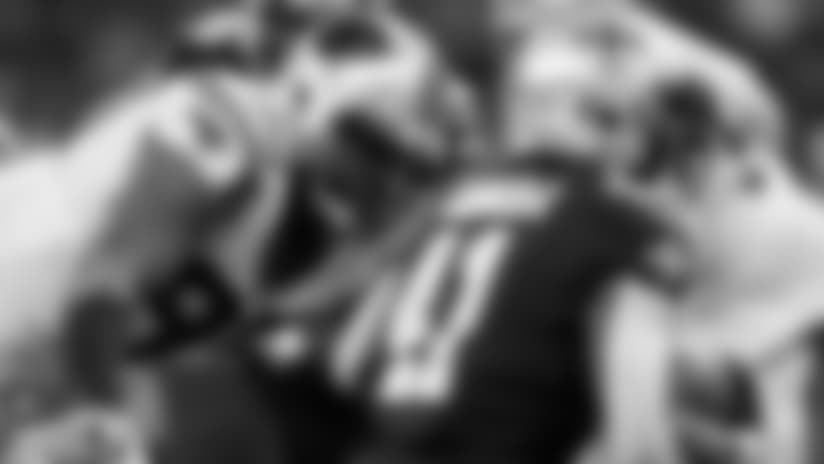 "As a three-tech, you want to get that penetration and create a new line of scrimmage," said defensive tackle Kawann Short, one of the most disruptive defensive tackles in the NFL. "Make those guys shifty instead of running downhill."
If Short and the rest of D-line can win individual battles and play behind the line of scrimmage, it makes all the difference.
"The biggest thing is we have to get them before they get started. That's easier said than done," linebacker Luke Kuechly said. "Our inside guys do a really good job with that. Those four guys have played great for us. I think New Orleans is really good up front. They've got guys than can move, they've got guys that are physical, and those backs find holes."
The Carolina D-line expects to win their fair share, but Ingram and Kamara are going to inevitably reach the second level from time to time. When that happens, the tackling has to be much better than it was in Week 13.
"One of the things we haven't done well against this team is tackle," Davis said. "Me in particular, that's one of the things I look at. The last game we played against them I probably had one of my worst tackling games of my whole career. I know for a fact that I'll be better this week and I'm looking forward to that challenge."
All of that said, stopping the run is only half the battle against this balanced New Orleans attack. We haven't even mentioned future Hall of Fame quarterback Drew Brees.
Yes, Brees often gets the ball out of his hand quickly, and yes, that can be very frustrating for pass rushers. But if the run defense does its job, Brees will be forced into some deeper drops on passing downs. That's when the Panthers have to affect the quarterback.
"It's my job to generate pressure," said defensive end Mario Addison who tied Peppers for the team lead in sacks with 11. "If I can generate more pressure and take some of the pressure off the backend, that's what I'm going to do because that's what we're built on."
"Brees is a guy that loves to step up in the pocket. If we allow him to sit there and do that, it's going to make for a long day," Davis said. "We have one of the best D-lines in all of the game.
"I think our D-line is definitely up for the challenge as they've proven all season long."
View photos from the week of practice leading up to the Panthers' wild card playoff game against the Saints.