SPARTANBURG, S.C. – A lot of NFL players adopt their team's stomping grounds as their second home and embrace their teammates as a second family.
But along that vein, defensive end Charles Johnson may be second to none.
Released by the Panthers after nine seasons in a cost-cutting move, Johnson never took it personally. Instead, he made a personal decision to return to Carolina for a whole lot less money than he made under his previous contract and for less than he would have made elsewhere.
"I love being here. If you love being at a place, so why try to change it up?" Johnson said. "It wasn't like they were pushing me out the door or anything like that. It was just a business decision. I respected that.
"All I know is Carolina, all I've ever known and all I've ever wanted to know. It's hard to leave something that you've invested so much in, and the sky is the limit for this team. I want to help take this team to where we need to be."
After being released March 3, Johnson was courted by both the New York Giants and the Tampa Bay Buccaneers, and he took their overtures serious enough to visit. But a discussion with Giants general manager Jerry Reese about Reese's career spent exclusively in New York as well as Johnson's time spent behind enemy lines in Tampa made his next move crystal clear.
Johnson decided not to move at all.
"I had made my mind up after I left Tampa," Johnson said. "It was weird. It was awkward, going through their facility. Don't get me wrong – Tampa is a great organization, but it was just awkward after going against them so many years and really having a hate factor for them.
"I always wanted to stay where I am, always thought about coming back to the Panthers. I didn't know how everything was going to be, but my mindset was always to come back to the Panthers."
Johnson re-signed six days after his release, and now his mindset is to show he can still be the kind of contributor he was for the Panthers prior to his injury-riddled 2015 campaign. From the time he became a full-time starter in 2010 through the 2014 season, Johnson was one of the most productive defensive ends in the NFL, averaging 10.5 sacks a season. His lowest total during the stretch came in 2014 when he had 8.5 sacks, but he set a career high by a large margin with a whopping 44 quarterback pressures.
Last year was a much different story. A hamstring injury suffered early in the year landed him on injured/reserve designated for return after Week 3. He returned for the final six games, but when the regular season wrapped up, all he had to show in the sack column was one that he recorded in the season opener.
Come the playoffs, however, Johnson began to look like the player Panthers fans know so well, recording a sack in each of Carolina's three postseason games. He's aiming to pick up where he left off, and the noted hard worker may have managed to find another level still.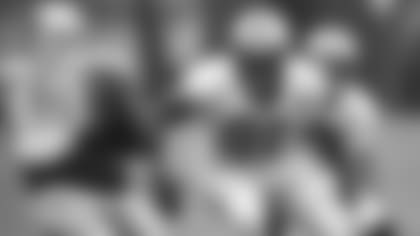 "I've just got to keep my body healthy," said Johnson, who dropped about 10 pounds this offseason, down to about 275. "I focused on those areas (of concern) in the offseason, strengthening up my hamstring, strengthening up my back, strengthening up all the minor injuries I've had over the years so I can try to maintain over the season.
"It's a marathon. I'm going to stay on top of body and try to be healthy every week."
And if Johnson is able to stay healthy, is he still capable of the kind of numbers that scored him such a big contract in the first place? Does he still have a double-digit sack season in him?
"I still do. I still do," he said. "I'm only 30. There are other guys way older than me putting up numbers. I'm just going to try to stay healthy and help the team out the best way possible.
"I feel good. It helps when you can come into work and you love the place you are. It's a dream for me because I get to play where I want to play, and I get to be loose and do what I love to do."
View photos of defensive end Charles Johnson during his ten seasons with the Panthers.